1770 Mercantile - Habanero Hot Honey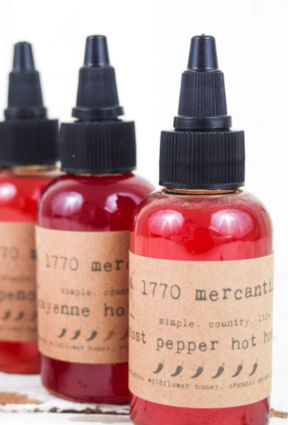 Maker:
1770 Mercantile
Newburgh, NY, United States
Pepper(s):
Habanero
Ingredients:
Wildflower Honey, Organic Habanero Peppers
Description:
Official:
"Our hot honey is made from local raw wildflower honey and organic chili peppers. We put a tremendous amount of time into each small batch that we make, with a process that takes at least one month to produce one bottle. But we promise you, the result is a richly sweet honey followed by an extremely smooth heat in a condiment that you can use on almost anything! The sweet and spicy flavors will wake up all your taste buds, making anything you put it on more flavorful. Some of our favorite uses are on pizza, sandwiches, pasta dishes, salads, meats, cheese, and even desserts, especially ice cream! Available in: Cherry, Jalapeno, Cayenne, Thai, Habanero, Chocolate Habanero, Mixed, and Ghost."