Arizona Gunslinger - Habanero & Mango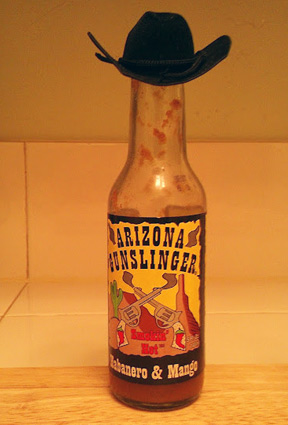 Maker:
Arizona Pepper Products Co., Inc.
Mesa, AZ, United States
Pepper(s):
Habanero
Ingredients:
Mangoes, Water, Tomato Paste, Carrots, Onion, Distilled Vinegar, Habanero Peppers, Spices, Salt, EDTA, Sodium Benzoate, Potassium Sorbate
Description:
Official:
"Arizona Gunslinger's Habanero and Mango Pepper Sauce delivers the flavor and zest of the Old Southwest. In Gunslinger you get a thick, rich pepper sauce with just the right amount of mango that has the zing of a hot shootin' iron. This savory blend adds distinctive flavor and zest to any dish. It's got the heat you can eat!"