Ass Kickin' Roasted Garlic Hot Sauce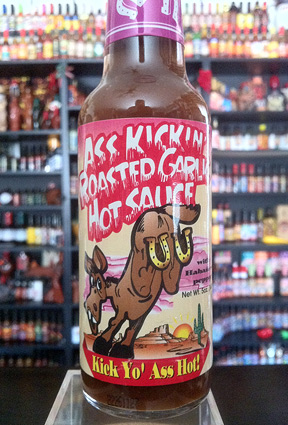 Maker:
Ass Kickin'
Arizona, United States
Pepper(s):
Habanero, Jalapeño
Ingredients:
Fresh Roasted Garlic, Spices, Habanero Peppers, Jalapeno Peppers, Tomato Paste, Vinegar
Description:
Official:
"With Habanero peppers. Garlic lovers delight. Fresh roasted garlic and Habanero peppers, What a treat!"
User Reviews
A-4.0

Reviewed by CzechStokeCityFan on August 12th, 2016

Taste: 4
Aroma: 4
Looks: 3
Heat: 3.8
Label: 3

Label:

The mean looking horse on it's front legs ready to deliver a strong jolt with the rear ones is used here...as it is on their entire "Ass Kickin'" line of sauces. This flavor gets the color pink around the label under the randomly placed horseshoes.

Looks:

The standard orange Habanero color throughout. I liked the consistency as it had some thickness to it, but still poured out of the bottle easily.

Aroma:

Pure garlic, with perhaps the slightest hint of vinegar. I would say a ratio of about 95% garlic, 5% vinegar is about right.

Taste:

As a garlic lover, that was supplied in ample amounts, and, as with the aroma, perhaps a bit of vinegar ever so slightly coming through. It seems they wanted to hit you over the head with garlic...and I suppose they did. I got no Habanero flavor at all.

Heat:

Good heat right from the start. Unlike some other sauces though, It did not increase through the meal, giving a nice, even heat all the way to the end. Perhaps I may call this one "sneaky hot", as you could get tricked into using too much on your food with a bit of carelessness.

Overall:

This company, Southwest Specialty Food, Inc. does not fool around with bland sauces. Garlic is very garlic, very hot is very hot, etc...so, one may trust the label. The heat level is to be respected...I have yet to sample any of their productions that didn't provide a strong burn. I like the sauces that build up the heat as one eats the meal(which this did not)...that is why I gave this one a 4, instead of higher. Garlic and heat lovers, give this one a try.