Ass Kickin' - Wasabi Horseradish Hot Sauce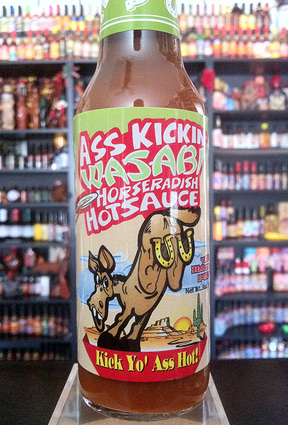 Maker:
Ass Kickin'
United States
Pepper(s):
Habanero, Jalapeño
Ingredients:
Wasabi Horseradish, Jalapeno Peppers, Habanero Peppers, Tomato Paste, Vinegar, Fresh Garlic, Onion Powder,spices
Description:
Official:
"Ass Kicking Horseradish Hot Sauce - Kick Yo' Ass Hot! w/ Habanero peppers. Japanese Wasabi horseradish blended with Habanero pepper will bring a tear to your eye. This hot sauce packs the Ass Kickin' punch of a black belt. Comes with an Ass Kickin' Horseradish Cheese Log' recipe on the side of the bottle."
User Reviews
B3.3

Reviewed by Bailz on March 24th, 2018

Taste: 3.3
Aroma: 2.9
Looks: 3.2
Heat: 3.6
Label: 2.9

Label:

Typical Ass Kickin label. Nothing special.

Looks:

Burnt sienna, medium consistency, a couple flecks of spices present.

Aroma:

Vinegar and spices abound but do not stand on their own. Definitely not getting wasabi or horseradish.

Taste:

Definitely a nice pop of tropical fruit, some spicy garlic notes, vinegar plays well with the ingredients. Solid.

Heat:

Medium plus heat. It's come on fast and intense and holds up for a bit.

Overall:

This is a pretty solid sauce. It doesn't have as much repeat customer feel to me but I'd happily have another bottle.