Benito's Hot Sauce - Original Naranja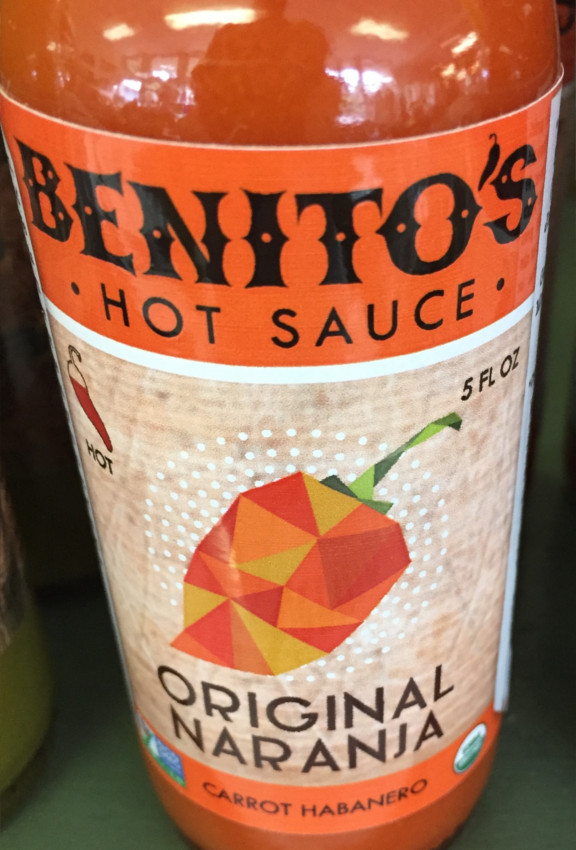 Maker:
Benito's Hot Sauce
Montpelier, VT, United States
Pepper(s):
Habanero
Ingredients:
Orange Bell Peppers, Lime Juice, Vinegar, Habanero Peppers, Ginger, Carrots, Extra Virgin Olive Oil, Garlic, Onions
Description:
Official:
"MEDIUM HEAT-WINNER 2010 HOT PEPPER AWARDS (Carrot based hot sauce category)…A 100% all natural blend made with organic orange habaneros, fresh orange and red bell peppers, garlic, carrots and white onions. A uniquely satisfying habanero hot sauce with an extra fresh taste.

With a generous helping of orange and red savina habaneros, this sauce is mucho picante (for a medium) to say the very least. It can also be used as an extract or chili base. The Naranja is fantastic on fish, poultry, pork and beef. Try it on taquitos, grilled cheese sandwiches, soft tacos, burritos, chimichangas, or enchiladas. It's even great cold on sushi or drizzled on top of a steaming bowl of popcorn…Enjoy! – Ol' Benito"