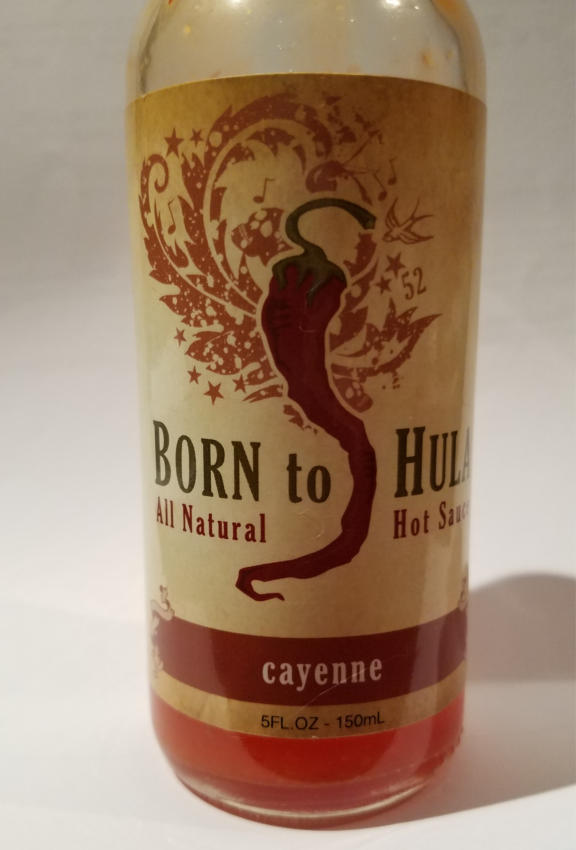 Maker:
Born to Hula, LLC
Highlands, NJ, United States
Pepper(s):
Cayenne
Ingredients:
Distilled White Vinegar, Red Bell Pepper, Cayenne Pepper, Garlic, Salt, Onion Powder, Lime Juice, Xanthan Gum
Description:
Official:
"All Natural Hot Sauce: Born To Hula's take on a Louisiana style hot sauce is Cayenne Pepper Sauce. Made with fresh red bell peppers, garlic, lime juice, vinegar and perfectly aged cayenne mash, the versatility of this "highly addictive" everyday sauce will blow you away!"
User Reviews
A4.5

Reviewed by CapsicumCarbone on January 19th, 2017

Taste: 4.5
Aroma: 4.5
Looks: 4.5
Heat: 4
Label: 4

Label:

Easy to identify. Nothing offensive nor silly. Some artistic stylishness and originality.

Looks:

Beautiful sunburst red and orange, mango hues. Bits of red bell, cayenne, and garlic visible. A thin nectar consistency.

Aroma:

Mild, mellow vinegar and citrus fruit. Bright but not overbearing onion and garlic. Mild and sweet cayenne pepper.

Taste:

Mild to very mild heat. Balanced white vinegar and spices. Minor vegetal. Very fresh and bright tasting. Easily approachable and great introduction hot sauce that can complement many foods.

Heat:

Heat is very mild to mild. Heat is presented here as more of a flavorful spice with subtle warmth. On scale of 0 to 5, I give a heat index of .05 to 1.

Overall:

I'm a big fan of this all natural mild cayenne Hot Sauce based on what it brings on its own but also on its ability to complement a dish as a supporter or lead. Also, ALL the flavors linger. It's a cohesive presentation. Yes, definitely vinegar and salty citrus forward, but overall balanced very well. Born to Hula Cayenne has won several awards. On the label it says, " It's not just a hot sauce. It's a way of life." Gotta love that.