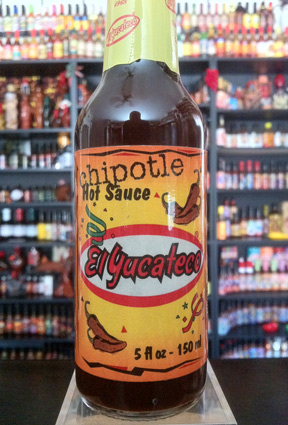 Maker:
El Yucateco
Mexico
Pepper(s):
Chipotle
SHU
:

3,000
Ingredients:
Chipotle Peppers, Water, Fructose, Salt, Spices, Acetic Acid, 0.1 Percent Of Sodium Benzoate
Description:
Official:
"It is made from a rich blend of naturally smoked chipotle peppers and corn syrup. Its smoky, sour-sweet flavor is sure to tantalize your senses.
Use it to marinate chicken fajitas or to prepare a tangy dipping sauce for shrimp, vegetables, and more."
User Reviews
A-4.0

Reviewed by chiligeorge on February 16th, 2016

Taste: 4.6
Aroma: 4.4
Looks: 4
Heat: 2.8
Label: 3.3

Label:

The standard label. The text up front is easy to read and straightforward. No slogan. The ingredients list is hard to read. The label has a nice brown colour which somehow makes the chilli more appetising. At first, i thought it was another el yucateco, but when i saw the chipotle on the label, it caught my eye.

Looks:

Semi thick sauce with good mixing ability. Its thick brown appearance will spread its colour on your food when you mix it, like rice and pasta. The brown, however, makes your bbq look fantastic. I remember trying this on my dad's' famous bbq smorgasbord, i was pleased to see how its colour and consistency made it look more appealing.

Aroma:

Hot bbq sauce, straight away. It smelt like a great smoked sauce, but with a little less punch. It smells like it would make non meat food taste meaty.

Taste:

Taste is where this sauce excels in. It has a thick, but smooth texture and it leaves a hungry aftertaste, pushing you to want more. It taste like how you'd expect a smokey bbq sauce to taste like, but with a green edge. Looks and tastes great on steak, pasta, schnitzel, rices and fried goods.

Heat:

It has a decent heat for the average consumer, but not exactly hot for established hot eaters. It's a great tasting sauce which i suggest adding to food which needs a bit of spice to it, but it won't do jobs a proper hot sauce will do.

Overall:

It's an irreplaceable starters sauce for meat lovers on a budget. Its taste and appearance will compete and sometimes out-performs other smokey hot sauces of greater value. Its ability to blend so well with meat and most other foods like rice, fish and pasta gives it a place in your standard fridge.