Da' Bomb - Beyond Insanity Hot Sauce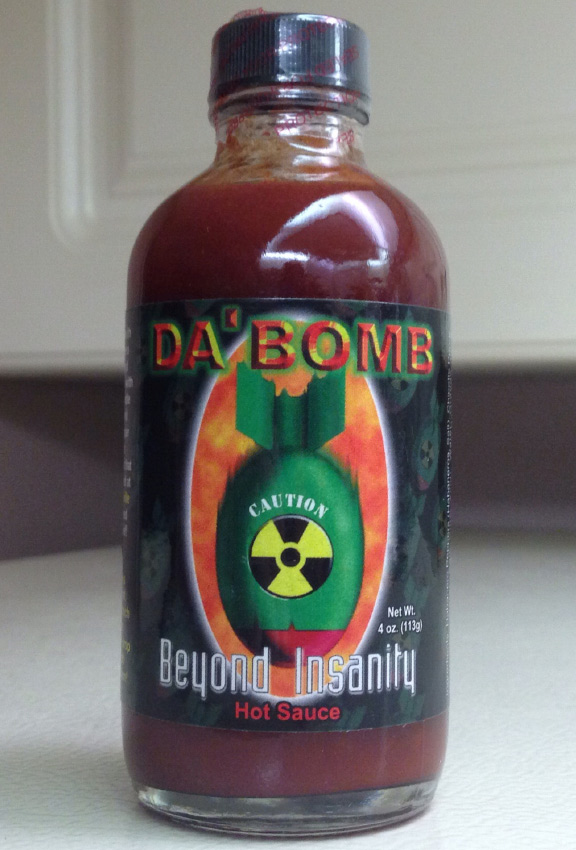 Maker:
Original Juan Specialty Foods
Kansas City, KS, United States
Pepper(s):
Habanero
SHU
:

135,600
Ingredients:
Habanero Peppers (Habaneros, Salt), Chipotle Purée (Chipotles, Water, Salt, Citric Acid), Water, Orange Juice Concentrate, Natural Pepper Flavoring, Tomato Paste, Potassium Sorbate, Sodium Benzoate (To Preserve Freshness)
Description:
Official:
"We started with hot Habanero peppers and blended them with smokey Chipotle peppers and natural pepper extract to create a sauce that was lab-tested at 135,600 Scoville Units. Wicked beyond belief!

Warning! This sauce is extremely hot. Keep out of reach of children. Consume one drop at a time with extreme caution!"
User Reviews
A4.6

Reviewed by ChiliChomper on October 29th, 2014

Taste: 3.9
Aroma: 4.6
Looks: 4.6
Heat: 4.9
Label: 3.9

Label:

Created at home with Photoshop, kickass nonetheless. Fatman falling from a fiery sky. Target: mouth.

Looks:

Angry red. Small slivers of pepper with flecks of spice. Thick, smooth and pours easy.

Aroma:

Biting, smokey scent. Hits the nose, hits the eyes.

Taste:

A great balance of intense heat and chipotle smoke. Flavorful for an extreme sauce.

Heat:

Makes my mouth sad because it thinks I'm punishing it. I'm not, I hurt you because I love you mouth.

Overall:

I believe in this sauce. Not just a mouth hammer, this sauce is able to deliver Chipotle flavor in a drop or two. 3 drops the length of a taco is perfect if you desire pain flavor.