Fireblade Food Company - Mala Hot Sauce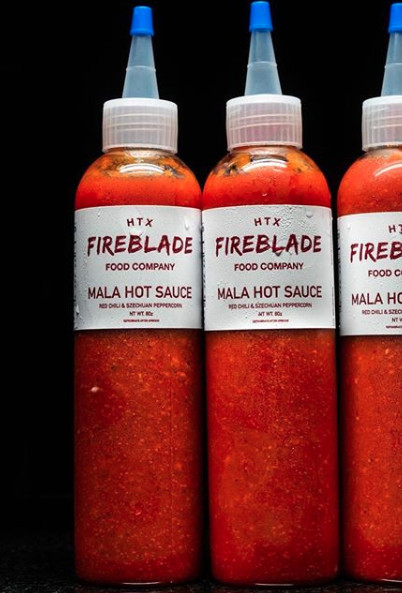 Maker:
Fireblade Food Company
Houston, TX, United States
Pepper(s):
Jalapeño
Ingredients:
Chili, Sugar, Garlic, Szechuan Peppercorns, Salt, And Xanthum Gum
Description:
Official:
"The first ever mala hot sauce. This is a Szechuan centric hot sauce that goes well on anything!"
User Reviews
A4.5

Reviewed by CappyDeals on October 8th, 2018

Taste: 4.6
Aroma: 5
Looks: 5
Heat: 2.5
Label: 4.7

Label:

Simple and catchy. The name is so cool!

Looks:

Beautiful bright red and smooth in consistency.

Aroma:

Most unique aroma ever. It's a bit floral (in a good way) and citrusy.

Taste:

Extremely bright! It is garlicky, peppery, a little sweet, and tangy. The peppercorn adds a whole new level of flavor. There's also a lot of depth.

Heat:

Moderately hot. The heat does not linger very long.

Overall:

This is extremely unique! I am familiar with Szechuan food, and I say that this captures the key components of this cuisine very well. The sauce is very aromatic - you immediately get the floral notes from the peppercorn. The flavor is very bright. All the ingredients stand out which is very interesting because it's hard for one aspect to not over power the other. The heat is moderate. It won't burn your face off but it has a small kick. This is great in the sense that it makes you want to use it over and over again. The peppercorn kicks in at the end. After the heat settles, you start to feel the numbingness from the peppercorns - super nice touch and very addicting! It's not too sweet or too sour. Overall, I think this pairs well with savory foods. The label is awesome. It's simple and also shows what you should try the sauce with. This does a good job in showing its versatility and it encourages me to try more types of cuisine. Very cool. Overall, I think this is extremely unique. I hope that this gets more exposure because this does more than just offer heat and flavor. It really does change the experience of eating. Whenever you need that Szechuan fix, use this. For those looking to try it, the only place I know of where to buy it is on their site (www.firebladefoods.com).