Frank's RedHot XTRA Hot Cayenne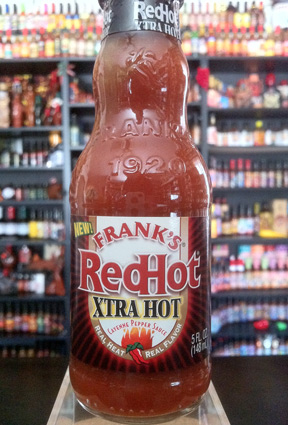 B

3.6

/

5

BASED ON

3

REVIEWS
Maker:
Reckitt Benckiser Inc.
AK, United States
Pepper(s):
Cayenne
SHU
:

2,085
Ingredients:
Aged Cayenne Red Peppers, Vinegar, Water, Salt, Garlic Powder
Description:
Official:
"Select, aged cayenne peppers are used to produce a rich, red, flavorful hot sauce very similar to the original hot sauce. It has outstanding flavor and aroma but with a useful step-up in the heat level. It doesn't "burn" out other flavors when used as an ingredient. Moderately thick, deep red sauce with strong aroma and high heat level."
User Reviews
A+4.9

Reviewed by dazzle on April 17th, 2020

Taste: 4.9
Aroma: 2.1
Looks: 4.9
Heat: 3.1
Label: 3.6

Label:

Eh. It looks like franks hot sauce, but a bit edgier - mission accomplished

Looks:

No complaints here. It drips nicely out of the bottle, its easy to control how much or how little you apply. Its a thin sauce you apply drop by drop, not something thick you squeeze out of a bottle

Aroma:

Nothing to report here. Smells of vinegar and a bit of chilli.

Taste:

Classic franks red hot but a bit hotter. Less vinegary and more garlicky than Tabasco. A classic vinegar type hot sauce. I basically see this as a better rounded more flavourful alternative to tabasco

Heat:

I'm rating it here because to me its a satisfying hot sauce but its certainly not one of those crazy hot Blair's mega death sauce type ones. A simple, easy, tasty vinegar based sauce you can use to add a kick to sandwiches, pizza, chicken - whatever food you have in front of you. Definitely adds spice but you're not in danger of burning your tongue or anything

Overall:

My personal favourite hot sauce. If I could only have one for the rest of my life, this is what I'd want

C+2.8

Reviewed by ChrisParker on January 18th, 2019

Taste: 2.5
Aroma: 3
Looks: 3
Heat: 1
Label: 3

Label:

Fairly generic looking, but that might also because I majored in art and know a bit about graphic design and what not.

Looks:

Very plain and watery. This isn't a very thick sauce by any means, but thickness doesn't equal quality.

Aroma:

There is hardly any scent, so that's not exactly a negative or a positive. If you don't want your nose burning from opening the bottle then this is fine.

Taste:

Not incredibly flavourful by any means, but it doesn't taste bad. I think Louisiana hot sauce has a better taste than this.

Heat:

I might be able to drink this in a cup.

Overall:

For a sauce that is labeled "extra hot" I was surprised at how much punch it lacked. Maybe I'm just spoiled because I lived near the original Quaker Steak and Lube so all of our stores sold their signature sauces, such as atomic, Asian crack, supercharged, and what not, but this is a relatively boring hot sauce. It doesn't have a ton of flavor and even worse is that it doesn't have a lot of heat. Even if a hot sauce doesn't taste good, if it can at least heat up your meal then there is some worth to it. Sadly, this doesn't really bring in the heat as the labeling would make you believe. If you don't have a higher than average tolerance for spices then this sauce might be for you, but for people who eat super spicy wings and other hot foods then this might be a pass.

B-3.0

Reviewed by adog56 on December 21st, 2014

Taste: 2.9
Aroma: 3.4
Looks: 2.9
Heat: 3
Label: 3.1

Label:

Extraordinarily ordinary. They might consider changing graphics to enliven appearance

Looks:

Basic red for hot coloring. Again, it appears as if not a not if thought given to this aspect

Aroma:

Inoffensive. No lingering smells like garlic or vinegar. Not a high profile memorable smell

Taste:

Tomatoey. almost tastes like a concoction someone created in a lab. There is a slightly chemical aftertaste.

Heat:

Rather mild. It might get lost in cooking, and as a garnish , overall, rather bland tasting.

Overall:

Unfortunately not a lot to recommend. This sauce. Not especially good, but overall, not offensive. There are many more better tasting sauces.