Byron Bay - Heavenly Habanero Chilli Sauce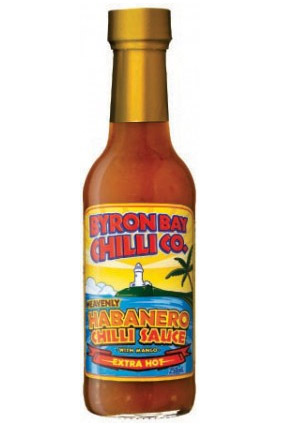 A

4.3

/

5

BASED ON

2

REVIEWS
Maker:
Byron Bay Chilli Co.
Byron Bay, Australia
Pepper(s):
Habanero
Ingredients:
Water, Habanero Chillis, Carrot, Onion, Vinegar, Mango, Sugar, Salt, Thickner, Food Acid, Lemon, Garlic, Vegetable Gum
Description:
Official:
"For those who like it hot...our Australian version of Carribbean style hot sauce. Chillies first came to the rest of the world from the West Indies.

The name Habanero comes from the capitol of Cuba, Havana. Deliciouso y Picante...."
User Reviews
A4.4

Reviewed by Blackhaggis on July 14th, 2018

Taste: 4.1
Aroma: 4.5
Looks: 4.1
Heat: 4.1
Label: 4.1

Label:

Nice friendly label with good colours

Looks:

Nice orange colour with nice consistency and texture

Aroma:

sweet aroma with scent of carrot and mango

Taste:

Full of flavour with hints of onion and mango and carrot . Habaneros come in nicely at end

Heat:

Not for the novice or occasional chilli taster It has a nice slow burn with a lasting afterburn

Overall:

A great tasting sauce will go nicely with any BBQ meat especially Chicken or pork , would be a good marinade for those who like good heat full of flavour

A-4.2

Reviewed by chiligeorge on July 15th, 2015

Taste: 4.2
Aroma: 3.6
Looks: 4.2
Heat: 4.1
Label: 5

Label:

The text is easy to read. The label definitely caught my eye. I love the picture on it. Makes me feel good about this bottle with its nice shade of orange in the background and the blue for the water. Very well designed label. Addicting to look at (on the desk next to me as i write this).

Looks:

The consistency is semi thick. Not runny, but just right. It has a tiger orange colour, also its colour is quite strong, not easily altered with other foods. It pours just right, so no need for a dropper bottle. Its an open neck bottle with a screw-on lid (nice).

Aroma:

When i smell this sauce from the bottle, i get a somewhat warm smell from it. It smells of your typical, habanero based chili, but with a side of mango which i find interesting. The mango gives the sauce a tropical smell that i like.

Taste:

When i first tried this on a kebab with dad, i thought i fell in love with this. It gave such a flavorsome punch to it. Made my day. A decent hit of the pepper, plus a side of mango. I could also taste hints of the carrot which also made it interesting. Quite happy with this. Good for food with one taste. Not all that great with food with a variety of taste. It has a sweet tone and it has a good amount of taste to it. Not bland at all.

Heat:

For me, it was a good amount of heat. Maybe i could settle for a little more, but its good for the flavour it delivers. Y'know, if you want to have a party, you want loud music, but its gotta be good music. This sauce would make a great party. Hot AND flavoursome. A near perfect ratio. ratio.

Overall:

I must say, it was different, but i really liked it. This is an awesome sauce to have in your fridge with its flavour capabilities and its good solid heat. Its a winner this is. Tried it again on tacos and it did its job well, especially with the salsa i put on it. This sauce is specially great on bland food for some heavenly flavour, but if your cuisine is that of many flavours, this might just be enough to tip the scale from 'enough flavour' to 'soo much flavour, my tongue is confused'. I suggest this for chicken, some bbq's, some pasta, anything mostly western and bland.