Hog's Breath Red Hot Sauce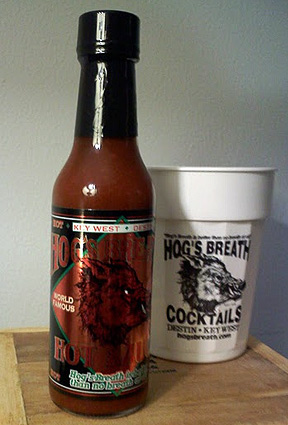 Maker:
Hog's Breath Saloon
Key West, FL, United States
Ingredients:
Peppers, Vinegar, Salt
Description:
Official:
"Hog's breath is better than no breath at all!"
User Reviews
A+4.9

Reviewed by tbonnesen on February 20th, 2013

Taste: 4.8
Aroma: 5
Looks: 4.6
Heat: 3.5
Label: 4.8

Label:

Nice design with and catchy saying on the side.

Looks:

Dark red and think but still easy to pore

Aroma:

Smells great and makes you want to try it!

Taste:

You just have to try it its that good!! Has a smokey fast that has a kick but won't knock you out. And there is no part to it that overwhelms the others.

Heat:

Definitely going to feel the heat but its not a bad heat and it still taste great.

Overall:

Nothing but happy with this hot sauce its great and has a smokey spice taste to it. I've had many of my friends try it and they all ask me where they can get some.