Jack Daniel's BBQ Sauce - Extra Hot Habanero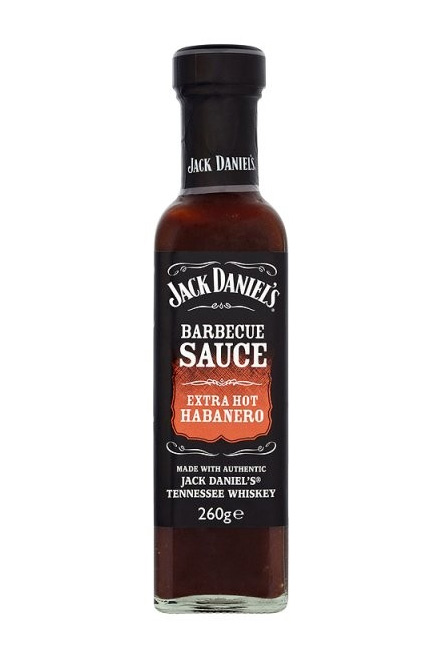 A-

4.2

/

5

BASED ON

2

REVIEWS
Maker:
Jack Daniel's
United States
Pepper(s):
Habanero
Ingredients:
Water, Dextrose, Tomato Paste, Concentrated Raisin Juice, White Wine Vinegar, Concentrated Orange Juice, Salt, Concentrated Lemon Juice, Onion Puree, Habanero Chilli Powder (1%), Jack Daniel's Tennessee Whisky (1%), Modified Maize Starch, Colour (ammonia Caramel), Dates, Flavouring, Concentrated Tamarind Extract, Stabilizer (xanthan Gum), Preservative (potassium Sorbate), Chilli Powder
Description:
Official:
"Made with real Jack Daniel's Tennessee Whiskey, this unique recipe has been specially blended with habanero chillies to create a smokey flavour with a fiery hot kick.
Perfect for turning up the heat on everyday foods or adding to stir fried chicken for a Tennessee twist on fajitas."
User Reviews
A4.4

Reviewed by NycoBway48 on March 24th, 2020

Taste: 4.1
Aroma: 4.2
Looks: 3.8
Heat: 3.7
Label: 4.5

Label:

produit brandé Jack Daniel's qui tient ses promesses

Looks:

Couleur typique des sauces bbq.

Aroma:

Une attaque sucrée et boisée suivie d'un piquant exquis

Taste:

Des arômes boisées et épicées, rarement j'avais une sauce bbq piquante à souhait.

Heat:

Soyons relatifs, très bon piquant pour une sauce bbq. Loin derrière des vrais sauces spicy.

Overall:

Un A est mérité pour une sauce bbq piquante. Elle n'est pas facile à trouver en Europe mais n'hésitez ps si vous la croisez. Marie à merveille les grillades.

A-4.0

Reviewed by chiligeorge on July 3rd, 2016

Taste: 3.2
Aroma: 4.2
Looks: 3.1
Heat: 4.2
Label: 3.2

Label:

At first glance, i thought that this bottle was misplaced, but upon further inspection, it actually reads what it was meant to read. A hot bbq sauce. That was nice to see, especially when THE Jack Daniel's has a take on it. The glass bottle looks pretty decent as well, but it has a wide opening so you must pour carefully.

Looks:

It pretty much looks like bbq sauce, but much thicker. I'm surprised no molasses was used. It has a dark brown colour and pours similar to honey.

Aroma:

Straight up, it tastes like a thick bbq sauce, but you could pick out hints of the whiskey essence. I thought it was more like bourbon. All the other ingredients in the mix didnt really come out, but i can only assume that they've managed to blend it so well, we don't really notice.

Taste:

It honestly tastes like your classic bbq sauce, but it reminds be of that bbq sauce you get on meat lovers pizza. Its got a real punchy flavour that picks up quick and releases slowly. It has a very unique taste that seems like it will work with particular foods, but when i tried it on my homemade pizza, it worked, especially well with meat.

Heat:

Even in small doses, you can feel the heat. Like the flavour, it's punchy, but it doesn't last too long though, leaving the flavour behind. To me, an experienced chilli eater, it is hot, but not substantial. It won't be enough to make me pant or sweat.

Overall:

At first, i thought i wasn't really gonna like this, but to be honest, i really like it. It's so different, but it's not too different. it's a combination of things that aren't really designed to be together, but have worked in this case and it's great. It works well on meat and seafood.