A Kick in the Boots - Chipotle Pepper Sauce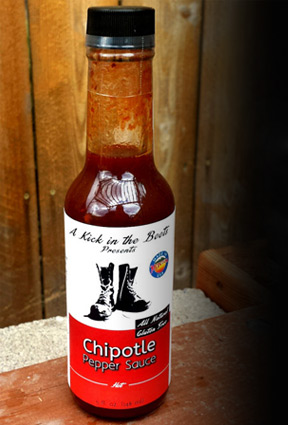 Maker:
A Kick in the Boots
Kalispell, MT, United States
Pepper(s):
Chipotle
Ingredients:
Distilled Vinegar, Water, Chipotles, Dried Minced Garlic, Salt,Raisins, Dried Lime Juice (maltodextrin, lime Juice, Lime Oil)
Description:
Official:
"A Kick in the Boots hot sauces give you the perfect flavor with the right amount of heat. A Kick in the Boots Chipotle Pepper Sauce uses all natural ingredients.
Try it in your favorite BBQ sauce, tacos, burritos, nachos, chili or just dip it on a chip."