Longhorn - Rodeo Jalapeno BBQ Sauce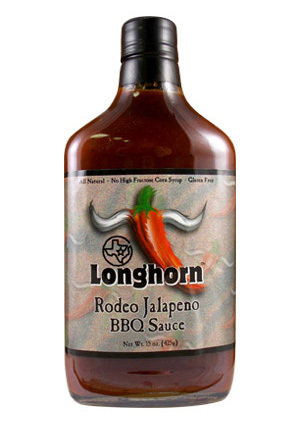 Maker:
Longhorn
KS, United States
Pepper(s):
Jalapeño
Ingredients:
Tomatoes, Water, Fructose, Brown Sugar, Molasses, Vinegar, Fresh Jalapenos, Jalapeno Powder, Liquid Smoke, Salt & Spices.
Description:
Official:
"Here's a barbeque sauce that's a perfect addition for giving great steaks a truly Texas taste. The molasses will give your steaks a classic Southern-style flavor, while the jalapenos add some Southwestern zing! Brush this sauce on your steaks as the last step before pulling them off the grill, or put it in a dipping bowl on the table when you serve the steaks; or do both! The perfect addition to our famous mesquite seasoning for a burger or steak with a truly Texas taste. Zippy!"
User Reviews
A-4.2

Reviewed by chiligeorge on October 18th, 2015

Taste: 5
Aroma: 5
Looks: 4.4
Heat: 2
Label: 3

Label:

A gig label for a big bottle (i got the big glass bottle). A nice pepper w/ horns picture on the front. Words are big and easy to read. Everything is clear on the back.

Looks:

Thick, bbq texture. You only need a little bit to mix with because of its thick, rich consistency. You can see the individual spices. Little grains and little black flakes. Looks very appetising.

Aroma:

ABSOLUTELY AMAZING. Its got such an iconic smoked smell like that of your classic ribs. Its a thick, gripping aroma.

Taste:

Tastes SO GOOD. Its so outgoing with meat dishes and it wont ruin it. Just add a little bit (strong bbq taste) and mix/spread well. It is magical with steaks and works great with chicken. Also great with chilli mexican, mild asian and phenomenal on feijoada.

Heat:

Its barely ketchup. Not hot at all. Might be ok for the average eater, adding a little spice to the flavour, but i buy hot sauce and expect it to be..... well.......... adequately hot. Flavour to heat ratio is far over scaled with its supernatural flavour. Ive added some drops of death sauce to the bottle to bring the heat to a suitable chilli level.

Overall:

Amazing 'hot' sauce. Jalapeno's are tasty, but just not hot enough. The flavour of the sauce accompanies the umami tone of any meat centred food. Trying this with bbq drumsticks w/ penne, it flavours everything. Tried this with plain schnitzel and it works just like a chicken bbq parmigiana w/o cheese. This is a multi tool. Be sure to add oregano when you are cooking with this.