Lovestuff: Five Pepper Sauce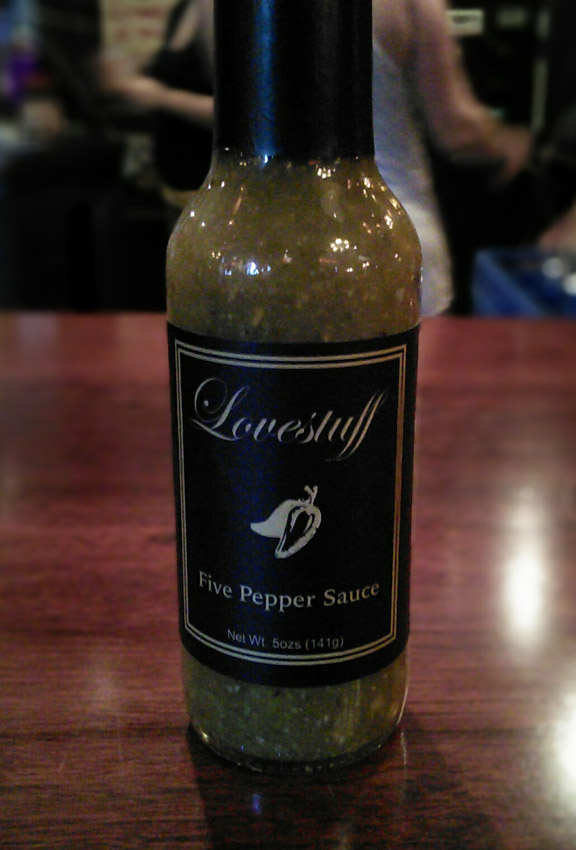 Maker:
Ground-Up Flavor Company LLC
Decatur, GA, United States
SHU
:

8,000
Ingredients:
Green Peppers, Distilled Vinegar, Lemon Juice, Salt, Garlic, Sugar, Spices, Ginger, Juniper Berries
Description:
Official:
"Lovestuff Five Pepper Sauce is a flavor forward, green chili pepper blend that is handcrafted in small batches. These chili peppers are combined with Peruvian sea salt, ginger, garlic, lemon juice, herbs and juniper berries. We then use a maturation process that dampens the heat and produces a grand flavor that pairs well with any foods. Whether it be proteins or fruits, this sauce provides a flavor and a spice that will accent any food without overwhelming it."
User Reviews
A+4.8

Reviewed by ALS5280 on February 9th, 2016

Taste: 4.8
Aroma: 4.5
Looks: 4.4
Heat: 4.5
Label: 4

Label:

The label is clean and basic. Doesn't use busy graphics or fonts.

Looks:

The sauce is thick, green and layered looking.

Aroma:

The peppers and vinegar stand out initially but the hint of ginger is there as well.

Taste:

The juniper berries and ginger stand out to me as the unique flavor to this sauce. The ingredients taste fresh as if they were just blended together.

Heat:

There is a great deal of kick to this sauce that slowly creeps up on you but is lasting without taking away from the food's flavor.

Overall:

This is my favorite hot sauce because it adds a great deal of heat without overpowering the dish or masking the flavors of the sauce. The taste has a layered depth to it that makes it a great addition to any dish. I especially love it in Green chili, stir frys, and omelettes.