Luau Blast Volcanic Hot Sauce - Island Tropical Sting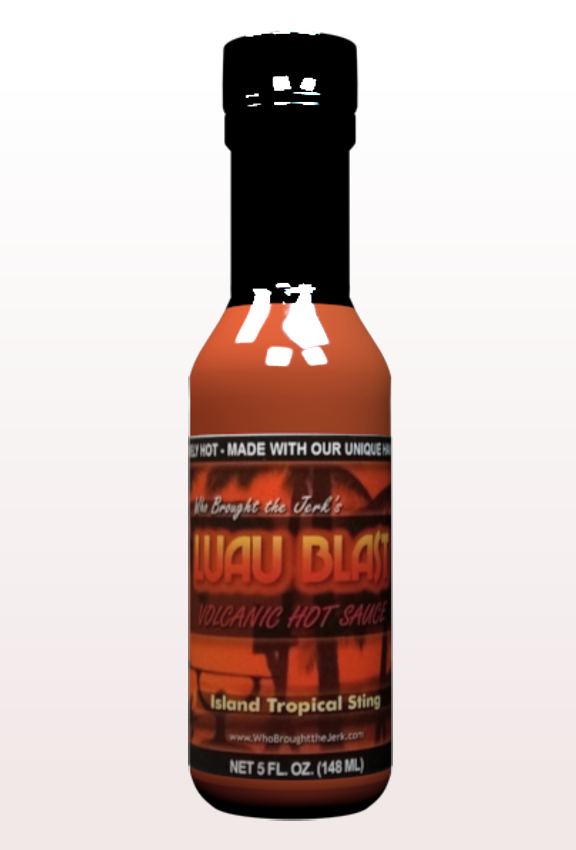 Maker:
Luau Blast Volcanic Hot Sauce
Honolulu, HI, United States
Pepper(s):
Habanero
Ingredients:
Hawaiian Tiki Pepper Extract, Fermented Habanero Mash, Mango, USDA Organic Ginger, Onion, Hawaiian Sea Salt, Vinegar, Citric Acid (Citrus)
Description:
Official:
"From The Cultural Magic of The Aloha State of Hawaii To the Divine Essence of New Orleans Comes A Unique Culinary Creation That Will Bring an Out of This World Sensational Burst of Energy, Zest, And Flavor To Your Taste Buds Like No Other Condiment On Today's Market!

Luau Blast Volcanic Hot Sauce is the ultimate representation of striking food condiments. Its prominent tropical flavor in the midst of its exotic island temperatures redefine the classifications of true extensive cuisine satisfaction. Using only the finest natural ingredients, Luau Blast Volcanic Hot Sauce is specially blended, brewed and cured to perfection with our purest most exquisite blends of peppers, roots, fruits, herbs, and extracts including but not limited to our specially Fermented Habanero Mash from New Orleans, Louisiana, combined with Hawaiian Sea Salt harvested from the realms of the Pacific Ocean, pooled together with Organic Ginger, Mango, Tomato, Onion and Citric Acid (Vitamin C), not to mention our unique one of a kind specially grown Hawaiian Tiki Peppers brought directly to us from the Beautiful, Sacred, Majestic Islands of the Aloha State of Hawaii.

A Premium Quality Top Shelf Hot Sauce: Since it's creation in 2005 Luau Blast Volcanic Hot Sauce has been used both publicly and privately in countless gourmet delicacies worldwide ranging from steak and seafood entrees to veggie and vegan dishes to limitless ethnic culinary delights. It goes extraordinarily well with eggs, omelets and many other delicious breakfast eats as well as accommodating a wide array of soups, salads, gumbos, ceviches, tapas and appetizers like shrimp cocktails, crab cakes, oysters, crawfish, fried okra & zucchini, not to mention enjoyable pupus like poke', pipikaula, opihi, sushi, sashimi, musubi and kim chee just to name a few. It is also known for being a remarkable addition to many favorable Hawaiian style plate lunches including lau laus, kalua pig, huli huli chicken, poi servings and more. It goes amazingly awesome with wings, tacos, fajitas, guacamole, salsas, tofu, quinoa, pizzas, pastas, jambalaya, gyros, falafels and yummy wraps too. Luau Blast Hot Sauce is notorious for it uses with foods on the grill like kabobs, burgers, ribs, pork chops, chicken, hot dogs, brats along with eggplant, squash, asparagus, steaks, shrimp, scallops and lobster tails among many other mouthwatering fares in restaurants, eateries, bar-b-ques and households around the globe. It has been essentially known by creeds and cultures far and wide for its participation in spectacular events like weddings, birthday parties, fiestas and of course Luaus.

At that it it can be used in choice cocktails and mixtures such as Bloody Marys, Shooters, Spicy Margaritas and Martinis among many other refreshing beverages in Bars, Clubs, at Sporting Events – YOU NAME IT – Concerts, Backstage Parties and countless other social gatherings and functions."