Lucky Dog - Red - Fire-Roasted Hot Pepper Sauce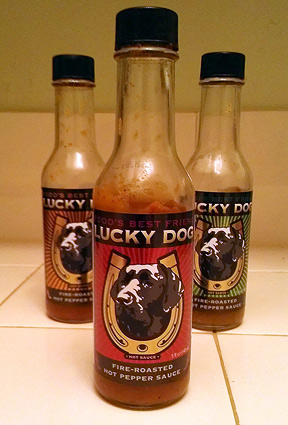 Maker:
Lucky Dog Hot Sauce
Hayward, CA, United States
Pepper(s):
Habanero, Jalapeño, Serrano
Ingredients:
Apple Cider Vinegar, Onions, Roasted Chile Peppers, Habaneros, Jalapenos, Serrano Peppers, Carrots, Roasted Garlic, Water, Sea Salt, Sugar, Cayenne Pepper, Lime Juice From Concentrate
Description:
Official:
"Red Label: Habanero, jalapeno & serrano peppers with roasted garlic.
Food's Best Friend: A delicious addition to any dish, adding savory heat without overpowering food. Use Lucky Dog Hot Sauce on meat, eggs, pizza, sandwiches, fish & pretty much anything!"
User Reviews
A-4.0

Reviewed by HSF on September 25th, 2012

Taste: 4
Aroma: 3
Looks: 4
Heat: 3.3
Label: 3

Label:

The labeling is clean, professional, and consistent. Between the lucky horseshoe is the peering face of a black lab. These versions could only be told apart by the background color, but I heard this was being updated to include the name on it, based on feedback.

Looks:

This sauce is pretty thick and was getting a little bit clogged in the top of the bottle. It's a red/brown color and I can see all the fresh pureed ingredients in the mixture.

Aroma:

I'm getting a little bit of carrots/sugar and hints of the taste. Otherwise, mostly a typical vinegar aroma.

Taste:

The fire-roasted peppers and garlic care key to the stand-out flavor here. I want to say somewhat of a smokey, taste, but that isn't the right word as it doesn't sound as tasty as it really is. It's that grill taste; like the prime crispy part of BBQ'd food. You taste the garlic, carrot, and a little lime too, with just a nice bit of sweetness. These sauces would be the perfect compliment for anything straight off the grill. It complimented all the food that I've tried them on, including pizza. Yum. This sauce uses an apple cider vinegar and habaneros, jalapenos, and serranos.

Heat:

The red is a medium heat that leaves a little tingle on the tongue. I prefer the orange version which has a bit more kick.

Overall:

With a lot of similar basic ingredients, sometimes I wonder how some hot sauces can have such distinct flavors. I was surprised at how the fire-roasting encompassed the flavor. Of the three types of Lucky Dog sauces, this middle ground one was my least favorite, but still excellent.