Mama Pearl's - Hot Sauce (Caribbean Flavor)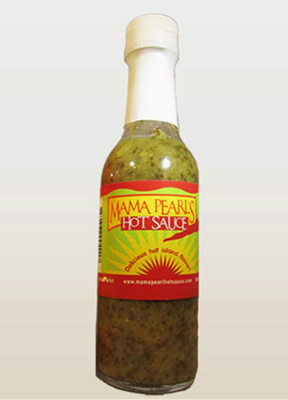 Maker:
Mama Pearl's
Boston , MA, United States
Pepper(s):
Habanero, Jalapeño
Ingredients:
Distilled Vinegar, Habanero Peppers, Cilantro, Garlic, Jalapeno Peppers, Mustard, Salt
Description:
Official:
"Made with the some of the freshest all natural and organic ingredients, this flavor has a Caribbean style hot sauce flavor. Made with both Habanero and Jalapeno peppers, it is sure to make you sweat while the very flavorful tangy taste will linger in your taste buds, leaving you wanting more."
User Reviews
A+5.0

Reviewed by Amandahot on March 20th, 2013

Taste: 5
Aroma: 5
Looks: 4.9
Heat: 3.9
Label: 4

Label:

Wish the label gave a biit more information to the origin or back story of the sauce. Love the colors, but some of the reason I buy sauces is also the story.

Looks:

The sauce is green and looks a lot like a relish of some sort. You can see seeds and all the ingredients.

Aroma:

The smell is of vinegar, citrus and cilantro. I love the bright smell and it isn't overpowering!

Taste:

The sauce is bright and has citrus notes. It has the texture of almost a chimichurri and at first the heat does not hit you. It is the after-bite when the heat kicks in. The taste is wonderful.

Heat:

Don't be fooled. It's hot. While this won't cause you to call 911, I think I expected a mild sauce. This sauce lets you know you are alive that is for sure.

Overall:

I have tried at least a 100 sauces in my lifetime thus far if not more. This sauce is for sure in my top 10. It is delicious and tastes like it is made in small artisinal batches. It's hard to find, but if you come across it...buy it!