Marie Sharp's Belizean Heat - Habanero Pepper Sauce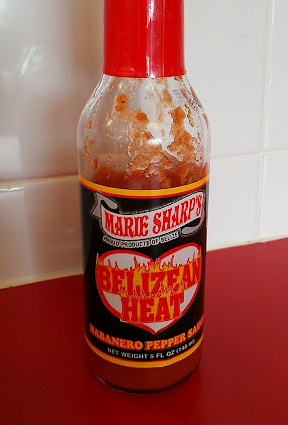 A

4.5

/

5

BASED ON

2

REVIEWS
Maker:
Marie Sharp's
Belize
Pepper(s):
Habanero
Ingredients:
Habanero Pepper Mash, Capsicum Oil, Fresh Carrots, White Vinegar, Key Lime Juice, Salt, Tomato, N'awlins Cajun,Creole Spices, Onions, Garlic
Description:
Official:
"Marie Sharp's Belizean Heat Habanero Pepper Sauce is great for cooking. Flavor Soups, Sauces and Stir Fries or add to boiling water for rice, pasta or broiled seafood."
User Reviews
A4.4

Reviewed by LUNAMAN on December 31st, 2017

Taste: 4.4
Aroma: 4.1
Looks: 3.9
Heat: 3
Label: 3

Label:

No frills, straight forward and simple appearance.

Looks:

Bright orange in appearance. A really nice balance between liquid and puree.

Aroma:

Strong vinegar aroma, hanbenaros plaguing the supporting role.

Taste:

Really enjoy the flavor of this one. It's a really bright combination of vinegar and habenaros up front. Carrots add a subtle undertones of complexity and sweetness.

Heat:

Nice level of heat for a day to day sauce.

Overall:

Bottle doesnt last long... is one of my go to hot sauces when it's in my fridge. Some reviews knock the vinegar in this sauce but i find it to contribute to the overall brightness of the sauce.

A4.5

Reviewed by Ken on January 22nd, 2014

Taste: 4
Aroma: 4
Looks: 4.9
Heat: 4.9
Label: 5

Label:

5oz bottle 3-color wet strength label your typical label.

Looks:

Thick bright orange color white visible signs of pepper seeds

Aroma:

Strong vineger aroma and pepper heat.

Taste:

Flavor is genuine Habanero blended with carrot juice. Great heat level and not to hot you can shake 4-5 large drops on you food and have lovely heat. The salt level is a little high with flavor backed up with garlic,onion,tomato, and lime juice.

Heat:

Again the heat level is perfect for me. I've sampled a full teaspoon without burning up, the heat is short lived and fades pretty fast which is good.

Overall:

This sauce is one of my favorites. I've gone through dozens of brands over the years and I have a handful of sauces I re-order and this is one of them, it gives a good value on price and heat level.