Marie Sharp's - BEWARE Habanero Sauce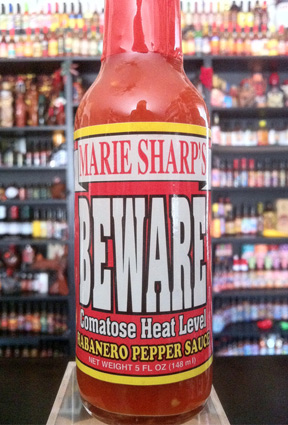 Maker:
Marie Sharp's
Belize
Pepper(s):
Habanero
Ingredients:
Capsium Oil, Habanero Pepper Mash, Fresh Carrots, Key Lime Juice, Garlic, Salt, Onions, N'awlins Cajun Creole Spices, Ginseng.
Description:
Official:
"If you are in need of extreme heat (as in mouth numbing, taste nothing else kind of heat) then this is for you. This is a quality product - as all of Marie Sharp's stuff is."
User Reviews
A4.6

Reviewed by Winter_YT on December 23rd, 2020

Taste: 5
Aroma: 4.4
Looks: 4
Heat: 5
Label: 3.2

Label:

Labeling is fine, but with the excessive amount of CAUTION and BEWARE you'd think it was a ghost pepper sauce or something to be only used in very tiny portions. The bottle includes a Tobasco style dripper that makes it difficult to apply but can easily be removed.

Looks:

Color and consistency look great and there are visible bits of real ingredients.

Aroma:

The aroma is really appetizing. It doesn't have a very vinegary or sharp smell to it. The sauce is spicy but not spicy to the point the smell become pungent like a ghost pepper sauce.

Taste:

Sweet. It's got this really lovely sweet taste that you don't get with many other habanero sauces that usually have sharp salty or vinegary flavors.

Heat:

For what it is, which is a habanero sauce, the heat is fantastic. I'd say it's about as hot as many of the ghost pepper salsas I've tried and a good bit hotter than the majority of other habanero sauces.

Overall:

I really love the taste of this sauce, it's definitely one of my favorites. It is sweet and pleasant tasting while also giving a strong amount of heat. It sits right on the lip before super spicy sauces start to become bitter and pungent and gives you the best of both worlds.