Marie Sharp's - Mild Habanero Pepper Sauce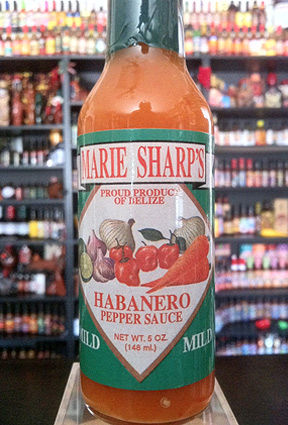 Maker:
Marie Sharp's
Belize
Pepper(s):
Habanero
Ingredients:
Red Habanero Peppers, Fresh Carrots, Onions, Key Lime Juice, Vinegar, Garlic, Salt
Description:
Official:
"A milder but still potent blend."
User Reviews
A4.5

Reviewed by Nick on March 7th, 2017

Taste: 4.8
Aroma: 3.9
Looks: 4.4
Heat: 4.3
Label: 4.1

Label:

Simple yet elegant green label with a heart containing some of the ingredients used in the sauce (onions, limes carrots, habaneros, and garlic).

Looks:

Thick orange sauce with noticeable but infrequent seeds. The sauce resembles the consistency of what I would imagine a carrot puree to be.

Aroma:

When taking a good sniff of this sauce all you can really smell is the vinegar which isn't necessarily bad. You do also get a hint of the sweetness of the carrots mixed with habanero.

Taste:

This sauce has it all: sweetness from the carrots, tangyness from the vinegar and the lime, and heat from the habanero. As I am writing this review I am enjoying it on a burrito from chipotle.

Heat:

This is not so hot that you can't enjoy multiple drops on a burrito from chipotle. But Hot enough to notice that it is a formidable adversary to your mouth

Overall:

I enjoy this sauce on many meals. From mac and cheese to pizza, and of course burritos this sauce does well in creating a mouthfeel like no other. Ever since my aunt visited Belize and brought this sauce back with her fourscore and seven years ago (well not actually it's more like 6 years) I have been restocking it in my pantry ever since.