MasterFoods - Hot Chilli Sauce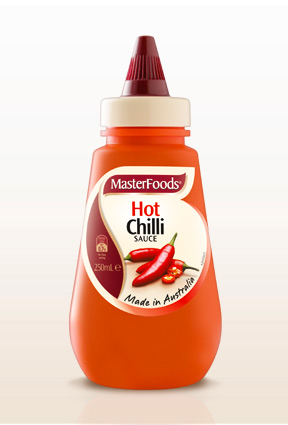 Maker:
MasterFoods
Australia
Ingredients:
Water, Sugar, Mustard Seeds 4%, Acidity Regulator (acetic Acid), Chilli 3%, Salt, Paprika, Vegetable Gum (xanthan), Treacle, Natural Colour (paprika Oleoresin), Herbs And Spice Extracts.
Description:
Official:
"A tasty blend of chillies, mustard and selected spices create this HOT and SPICY sauce."
User Reviews
C+2.8

Reviewed by chiligeorge on July 20th, 2016

Taste: 3
Aroma: 3.3
Looks: 4
Heat: 3.4
Label: 3

Label:

Standard labeling. Easy to read and notice, since the bottle is an orange squeeze bottle. Art is straight forward. It has the label and a picture of chili's on the front. Decent looking bottle on the store shelf.

Looks:

It has a very vibrant orange colour. Texture is similar to that of bbq sauce, so it runs quite well. Consistency is not too thick and not watery, so it's easy to mix. You can make out the tiny individual seeds and grains in the sauce.

Aroma:

Smelling it with the squeeze lid of, i can make out strong accents of mustard and other spices i can't quite put my finger on. Pretty much smells like different mustard. It's sort of strong, but its not overwhelming. It might alter the smell of your food, but not by much, really depends on how much you put in.

Taste:

Hot mustard is a good way to put it. Its quite punchy in taste. The taste appears its head, then casually walks away. Aftertaste is a bit odd. I could make out garlic, but there isn't any garlic in the ingredients list. It smells as appetizing as you'd expect a thinner, sharper mustard to be.

Heat:

Just like the taste, its a punchy heat. Might take you by surprise, but then after a while, its not so bad. Even for a regular chilli eater, its pretty punchy, but it goes down after a bit. Id say just put a little on your food, the taste is pretty strong and the heat is punchy.

Overall:

Its a sauce for people with little exploration would try. Its an everyday sauce, like tobasco, but its like the casual brand name version. It works with chili dogs (the whole mustard and hot sauce mix), some pastas, rice and other meats. Its not much compared to anything else ive tried, but its a decent sauce to have on you, incase you run out. Not a bad sauce, just simple.