Melinda's - Naga Jolokia Hot Sauce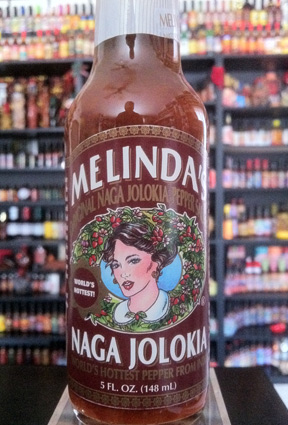 A-

4.2

/

5

BASED ON

2

REVIEWS
Maker:
Melinda's
United States
Pepper(s):
Bhut Jolokia (Ghost Chili)
Ingredients:
Naga Jolokia Pepper, Fresh Carrots, Papayas, Lime Juice, Vinegar, Onion, Passion Fruit Juice, Garlic, Salt. 5 Oz.
Description:
Official:
"Melinda's Naga Jolokia Hot Sauce will thrill the most seasoned hot sauce lover. Fire and flavor is what this sauce is all about!"
User Reviews
A-4.0

Reviewed by Jermfish719 on January 7th, 2013

Taste: 4
Aroma: 4.6
Looks: 4.1
Heat: 3.5
Label: 3.4

Label:

nice label, classic Melinda with a label just a tad darker than the sauce. Average Joe doesnt know the jolokia is the ghost pepper.. should have put ghost on the bottle..

Looks:

thick but not too thick, seeds, chunks, nice.....

Aroma:

Naga ... great nose on this.. hint of sweetness, mild vinegar. Great naga smell!

Taste:

Naga, roasted garlic, some sweetness, spices, not too much vinegar! It has a nice mild smokey flavor

Heat:

No extract here.. pure flavor! Not too much heat but decent. I can cover a burger with this without loosing too much sweat! I wish there was more sauces with naga flavor minus extract

Overall:

I like this sauce! Great naga flavor without too much heat. This is a great sauce if you dont wanna use super hot sauce. I like it on anything! Ironically, the only place i can find this is at Marshalls ?

A4.3

Reviewed by Shane_Corning on June 19th, 2012

Taste: 3.5
Aroma: 3.5
Looks: 4
Heat: 5
Label: 5

Label:

Decorative, full bottle wrap that is die cut, yet the two bottles I've had are stuck well on the bottle. Top seal is an easy open with it's perforations.

Looks:

Red!!! ... ... sometimes watery (likely vinegar), sometimes a chunk comes out? Whole seeds! ... So I guess it has consistency of pepper mash.

Aroma:

Smells of hot, hot, and some hot. And maybe vinegar if you have the most sensitive nose ever? I smell hot.

Taste:

There is a tiny bit of sweetness that comes through. Nothing like Pablo's Private Batches, though.

Heat:

Hottest sauce I've had to date as of June 2012! This sauce is all about heat.

Overall:

This sauce is my latest "commercial go-to" for hotness. It does have other flavors in it though, once you get past the heat. Mainly a tiny bit of sweetness from the Papayas, I'd imagine. Contrary to some text on the web, this sauce does not contain habanero peppers in the ingredients. Naga Jolokia are the only peppers listed. Be aware this is a vinegar sauce, however (e.g.- unlike Tapatio), but you'll be hard pressed to care.