Melinda's - XXXtra Hot Sauce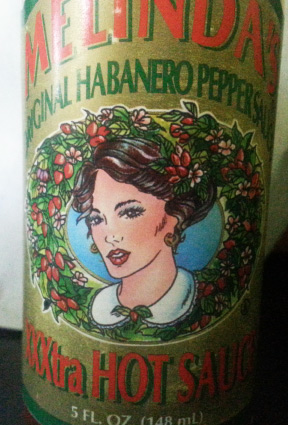 C-

1.9

/

5

BASED ON

3

REVIEWS
Maker:
Melinda's
Costa Rica
Pepper(s):
Habanero
Ingredients:
Habanero Chiles, Fresh Carrots, Onions, Garlic, Limejuice
Description:
Official:
"XXXtra Hot Sauce"
User Reviews
F0.5

Reviewed by Chinense on July 1st, 2016

Taste: 0.6
Aroma: 0.2
Looks: 1
Heat: 0.3
Label: 0.9

Label:

Label seems old and dated and did not appeal to me personally.

Looks:

The color appeared artificially produced which was a concern for me.

Aroma:

The smell confirmed my suspicions of this being an artificial product.

Taste:

While i was very excited to try this sauce because I had read some great reviews, this product was a big let down. i purchased it at a local whole foods thinking it must be all natural. While the label says fresh carrot, it clearly was made from dehydrated vegetables. The product was overtly chemical in structure and my tongue seemed to tingle from that MSG feeling one gets from Chinese food. red flags all over the place on this one.

Heat:

i detected hardly any heat? Like another reviewer, i would not even characterize this as a hot sauce. More like a sodium benzoate kind of concoction. Big wah wah.

Overall:

While i was excited to try this, the sauce was not only underwhelming, the more I think about it the more disgusted i am for trying it. i am taking it back to whole foods for a refund. major problems with the ingredients not matching the experience. artificial aroma, flavor was bad, little to no heat. Unlike another reviewer, I am not interested in anything from this brand, if this is representative of their products, you can keep them!

D1.5

Reviewed by titleist on August 28th, 2014

Taste: 1.5
Aroma: 1
Looks: 3
Heat: 0.5
Label: 2.5

Label:

While the labeling itself isn't horrible, it didn't specifically draw my attention.

Looks:

The sauce looked like an Asian sweet chili sauce, which initially threw me off. There were chunks of red pepper flakes in a more viscous sauce. It had nice coloration to it, ranging from a dark orange to a light red

Aroma:

I really had to get my nose down into the cup to even get a whiff of something. It smelled on the sweeter side, but not Habanaro sweet, more like an artificially enhanced sweet. I could detect no heat signatures from the scent.

Taste:

The sauce itself wasn't terrible, however it was not much of anything. I certainly would not label it as a very hot sauce. Much like the smell it was on the sweeter side, however only slightly. Honestly, it really did not have much a taste period - in fact I had to take a second, much larger taste just to even feel I could interpret it.

Heat:

There was little to no heat in this sauce period.

Overall:

While the sauce looked interesting, it was a major letdown. The artificial sweet smell, lack of taste and the zero amount of heat are factors I cannot in good conscience ignore. While a particular sauce may not be to my personal liking I always like to think of an application where it could be used. I can't certainly think of an earnest application for this sauce, except for maybe introducing children or new tasters to the world of sauce. I am genuinely interested in trying other Melinda's sauces to see if this one is just a bad representative of the line.

B+3.8

Reviewed by Onfirebabies on March 26th, 2014

Taste: 4.4
Aroma: 3
Looks: 3.5
Heat: 3
Label: 3.5

Label:

A fairly conservative label. A woman's portrait surrounded by a floral wreath.

Looks:

A bit thicker than most, with tiny bits of pepper skins in it.

Aroma:

A strong smell of vinegar with a hint of limes.

Taste:

Excellent taste with, a a strong citrus flavor, and some smokiness in there.

Heat:

It has some heat, but I believe that its claim of XXXtra hot, may be a little far flung.

Overall:

I believe that Melinda's XXXTra Hot Sauce does not live up to its name. That being said, I do enjoy this sauce quite a bit , and it has an excellent flavor. I have used it as an accent when cooking rice and found that it is an excellent addition. Some heat without being overwhelming. A very good sauce.