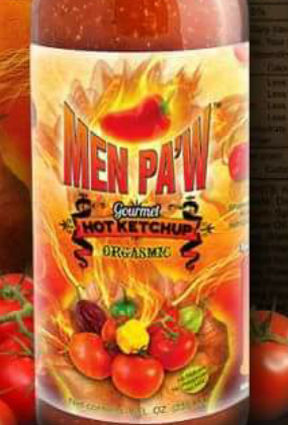 A+

5.0

/

5

BASED ON

2

REVIEWS
Maker:
Men Pa'w Gourmet Hot Sauces, LLC
Cutler Bay, FL, United States
Pepper(s):
Habanero, Cayenne, Fatalii
Ingredients:
Ketchup (water, Sugar) Tomato Paste. Distilled Vinegar, Olive Oil Blend, Spices, Xanthan Gum, Apple Cider Vinegar, Onions, Chocolate Habanero, Red Scotch Bonnets, Fatalli Peppers, Soul Spice, Tropical Seasoning, Parsley, Orange Habanero Peppers, Onion Powder, Garlic.
Description:
Official:
"This spicy gourmet hot ketchup is an unforgettable taste sensation the perfect balance of flavors, heat and texture. So exquisitely flavorful Orgasmic and Hot you will want to eat it with every bite. Perfection in a bottle!!"
User Reviews
A+5.0

Reviewed by Spicy_Sam on November 7th, 2016

Taste: 5
Aroma: 4
Looks: 5
Heat: 2
Label: 4.5

Label:

Love the new Men Paw Labels, this one is very cool. It catches your eye, and shows all of the included ingredients while not being too busy and still remaining visually appealing.

Looks:

This isn't your Heinz ketchup, this stuff is nice and thick. None of that loose watery stuff you get in normal ketchup. Its nice and thick and smooth. Sticks on food perfectly, and is great for dipping.

Aroma:

Not too strong of an aroma, but you can smell all the Haitian spices and ingredients. Has a good smell, just not one that is over powering.

Taste:

As some one who HATES ketchup, i LOVE this ketchup. I have to make it clear, that I really do NOT like ketchup at all. But this sauce is incredible. Its not your typical ketchup, the spices and Haitian ingredients combine to make a savory and not overly sweet sauce that can be used in a lot of different meals. I person love using it with veggies.

Heat:

This is a little bit of a kick, but this is safe for anyone to use. My kids who are 6 years old love this stuff. They call it the "Good Ketchup".

Overall:

Overall, I have to say as some one who doesn't like ketchup or tomatoes, that this sauce is amazing. More than likely the only ketchup i would ever purchase due to its complex flavors and how savory it is. If you like ketchup you will love this sauce, if you dont like ketchup i highly reccomend you give it a try if you like flavorful sauces. It's not overly salty or sugary like the ketchup you get at the grocery store. So go ahead, what do you have to lose? Get some orgasmic Men Pa'w Spicy Ketchup today!

A+4.9

Reviewed by sajousart on November 7th, 2016

Taste: 4.9
Aroma: 4.9
Looks: 5
Heat: 4.9
Label: 4.8

Label:

I love a label that tells the story and attracts me to taste the product. This label resonates with me and announces a perfect product

Looks:

Perfect color ,a consistency that is neither runny nor too solid. The texture is very pleasant to the palette, adds to the value of the food. It enhances the meal.

Aroma:

The aroma is seductive and inviting. It annouces a perfectly spicy experience and entices wonderfully.

Taste:

The taste is wonderful in that the hot spices are not everwhelming and the ketchup speaks to the high quality of the tomatoes and other spices.

Heat:

The heat does not overwhelm but is not shy either. Its presence is felt immefiately but it is pleasing and exciting all at once.

Overall:

Having tasted and used this ketchup many times i am prepared to accept that it is my favoritreketchup and i don't plan to make a hamburger again without it. This ketchup is seductive. If you take one step toward it it will take three steps toward you.