Pain is Good - Batch 114 Jamaican Style Hot Sauce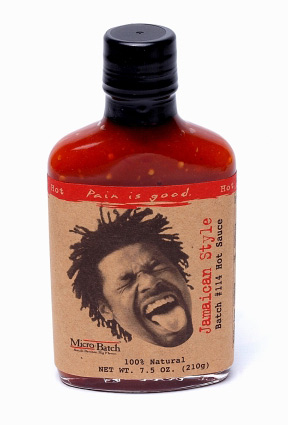 Maker:
Original Juan Specialty Foods
Kansas City, KS, United States
Pepper(s):
Habanero
Ingredients:
Habaneros, Pineapple Juice Concentrate, White Vinegar, Tomato Paste, Water, Salt, Jerk Spice, Lemon And Lime Juice Concentrate
Description:
Official:
""Pain is Good" - The magic begins with this jerk sauce - in the mouths of those who eat it, a strange voodoo begins to take hold, consuming the body, mind and soul. There is no sensation quite like the one of this sauce with Caribbean fruit juices and spices. Smaller size, same big flavor!"
User Reviews
A4.5

Reviewed by banjax on August 30th, 2012

Taste: 4.5
Aroma: 4
Looks: 4
Heat: 3.5
Label: 4

Label:

You definitely know the bottle contains hot sauce even if your reading comprehension skills are lacking. Pretty understated packaging, has a raw look to it.

Looks:

Looks hot. Kinda chunky, kinda obvious that habaneros are the main ingredient. Deep dark reddish brown, showing a good amount of spice, and not overly pureed. Just as I would expect (and hope for) a jerk-type sauce to look.

Aroma:

Smells hot. Very earthy, jerky. I cracked this bottle during a business meeting this morning and poured a liberal amount on my burrito. Even those who did not see me do so definitely knew it when they caught a whiff. The bottle got passed around, and all were in agreement. Smells good.

Taste:

This stuff looks hot and smells hot, and delivers top notch flavor. Great jerk spices that really shine through the medium-high heat. Don't get much pineapple though, for being the second ingredient. Pretty balanced sauce overall, but haven't had a chance to grill this into some chicken yet, which is where I think it will really showcase the flavors.

Heat:

With labeling that displays "HOT" and "HABANERO", from a brand called "Pain Is Good" I was let down a bit. The heat hits pretty quick, but doesn't stay around long. That said, I wouldn't hesitate to grill chicken with this if I had a bunch of non-chileheads over for a barbecue. Just hot enough that I like it, but not too hot for the un-initiated. Several of my colleagues were hiccuping from a taste on their finger.

Overall:

This is not a generic hot sauce to be dumped liberally on every meal. That said, I think if it's paired with the right dish most fans of spicy will like it quite well. I found it in my local supermarket in Iowa, and it can be purchased directly from the maker/distributor. Pretty inexpensive for the size in oz, though if you're grilling with this, it won't last long.