Papa Lynn's - Jala-Haba Hot Sauce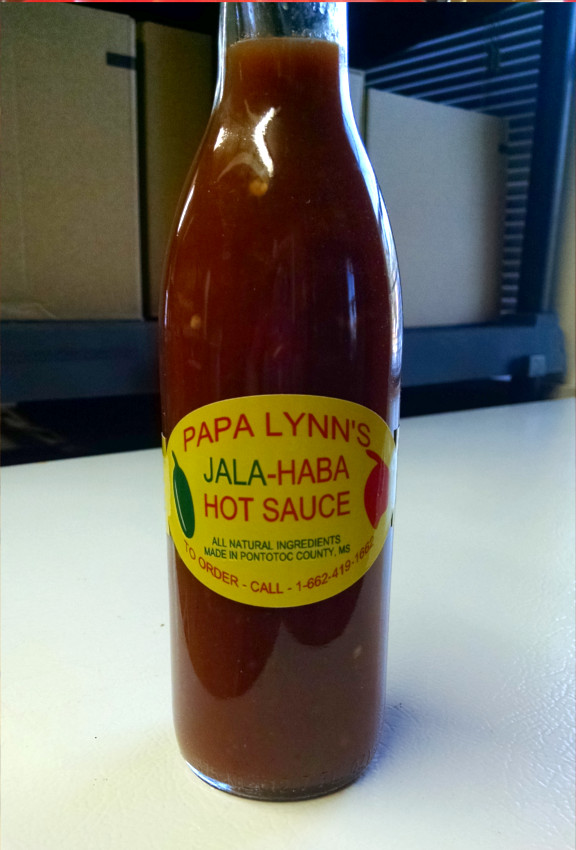 Maker:
Custom Creations
Ecru, MS, United States
Pepper(s):
Habanero, Jalapeño
Ingredients:
Tomato Paste, Tomato Sauce, Water, Vinegar, Sugar, Salt, JALAPEÑOs, Habeneras, Garlic Powder, Onion Salt,
Description:
Official:
"If you like hot sauce, you will love Papa Lynn's Hot Sauce. Papa Lynn's has 2 flavors. The medium heat, Jala-Haba, is made with a perfect ratio of JALAPEÑOs and Habeneras. The hot heat, ROBUST, is made with the same starting recipe with three times the Habeneras in the mix.
Not only does Papa Lynn's have the heat, the flavor is outstanding."
User Reviews
A+5.0

Reviewed by MTF3 on September 6th, 2016

Taste: 5
Aroma: 4
Looks: 4
Heat: 3
Label: 4

Label:

The label attracted me to this hot sauce because it is a local product. The yellow background stood out and the text gave me enough information to buy it. "All Natural Ingredients made in Pontotoc County, MS" I live in Tupelo and Ecru is close. The name "Japa-Haba" told me the type of peppers it is made from. I guess it could be fancier but what would you expect from a home town product, too fancy and I would had walked on by.

Looks:

Rustic looking, like a homemade sauce even though it says "Shake Well" on the bottle the sauce doesn't separate . It is slightly thick and coats the bottle when you tilt it. It is definatly a tomato base sauce. It pours well and easy to apply.

Aroma:

It smells mild, you can pick up the tomato and peppers without smelling too much vinegar. Not too much heat and fragrant to the point of making you want to try it.

Taste:

Who cares how it smells and looks, how it tastes matters most. I bought it because it was local and I continue to use it because it tastes good. Most Habanero sauces are too hot, plain jalapeño sauces need something. n Jala-Haba found to right mix to hit all the favor notes. We consume hot sauces with various foods and to our particular liking. This has become my "Go-To" regular sauce among 10 sauces I usually keep on hand. I have used it with eggs, meats, soups and other recipes to add that little "something" to brighten up your day. I have added it to ketchup and tarter sauce to add favor. I have a habanero sauce that is good but much hotter, Papa Lynn's gives me that favor without the battle. I don't want to burn, I want to enjoy. This Taste made me buy the Robust blend made by Papa Lynn's.

Heat:

It has a mild to medium heat level. It's not going to make you sweat but I enjoy the favor. You don't have to watch the amount, but the more you add the more heat. The heat level is smooth with depth. I have mixed it with mayonnaise for a sandwich, you can tell it is there with have to fight the sandwich. Warmth with favor.

Overall:

I guess the overall rating would be, if you would purchase it again. Yes, for two reasons; one it tastes good and secondly you used it all up. Being a small operation local product it isn't in every store, but their website gives you locations where to find it. Obviously the makers care about the quality of their product and consume hot sauce themselves because it doesn't tastes like it was an accident, someone refined this sauce into a buyable product that all can enjoy. Taste is what will sell this product and the more people try it the more will enjoy it. I brought it out when some friends were over for supper and they all said it was a good hot sauce, without being too hot. Normally the milder sauces are one-note cayenne versions, Jala-Haba gives you a richer depth of hot sauce favor. Personally I think it is one of the best hot sauces I have tried.