Pinchers - One Pepper, Soooo Incredibly Hot Sauce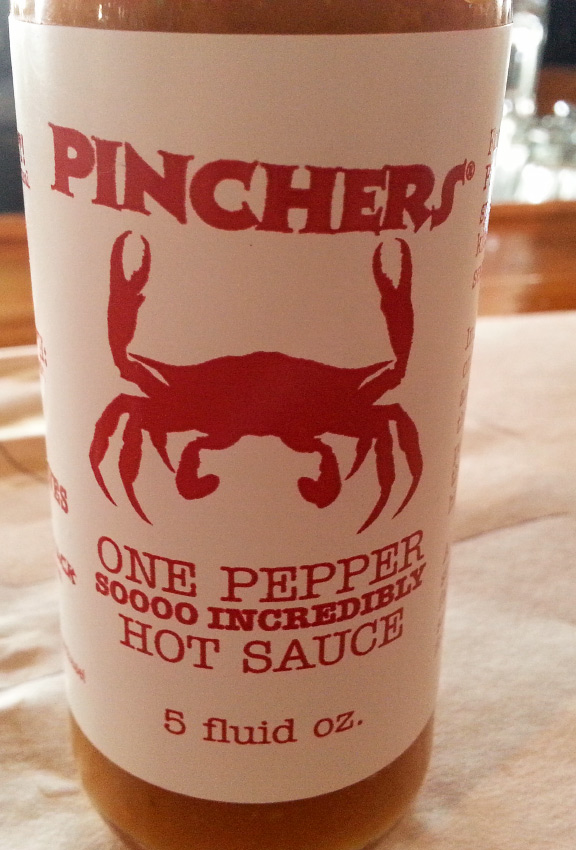 A

4.3

/

5

BASED ON

2

REVIEWS
Maker:
Pinchers
United States
Pepper(s):
Habanero, Scotch Bonnet
Ingredients:
Scotch Bonnet, Habaneros, Garlic, Onions, Vinegar, Salt
Description:
Official:
"Use it sparingly, to liven up any meal."
User Reviews
A+5.0

Reviewed by Shawn on June 4th, 2017

Taste: 5
Aroma: 5
Looks: 5
Heat: 5
Label: 4

Label:

Very minimal design. But I take that as a sign that it's more homemade than a mass-produced brand bottled by the thousands with a glossy label.

Looks:

Dull orange color, thicker and "chunkier" texture than most red sauces.

Aroma:

Definite Scotch Bonnet aroma! Not too vinegary. Just right. You can also smell the heat, which is always a good warning indicator of what's to come.

Taste:

I love the flavor of scotch bonnet peppers, and this definitely has that. Also not too vinegary. My FAVORITE sauce by far of any I've ever had!

Heat:

It's a GOOD burn! Not hot just for the sake of being hot. It actually tastes delicious. The burn is more "overall" than just on the tip of the tongue. The burn lingers just long enough without being annoying. Definitely brings a tear to your eye... Happy tears!

Overall:

I had this sauce at Pincher's Crab Shack in Key West, FL. I asked for hot sauce and the waiter brought this, along with a warning that it was extra hot. I was literally crying at the table, but it was awesome! I fell in love at first taste, and bought a bottle to take home. I should have bought more. It's quite expensive on their website because you have to buy 6 or 12 bottles, plus $15 s&h. I'll probably give in and buy it anyway, since my bottle at home is almost gone. I'm hooked! This is my favorite hot sauce by far. I put it on everything.

B3.5

Reviewed by Onfirebabies on March 26th, 2014

Taste: 3
Aroma: 2.3
Looks: 2.5
Heat: 3.4
Label: 3

Label:

Very simple label. Red crab on white background.

Looks:

A rather thin reddish brown sauce.

Aroma:

A very Strong vinegar smell, with a tiny hint of smoke.

Taste:

A pretty tasty sauce overall. No one ingredient jumps out at you. Possibly a little vinegary, but overall a good blend.

Heat:

The heat came on pretty quick. I would say more of a lingering burn, but by no means overpowering, but Surprisingly spicy.

Overall:

Once again catching myself being some sort of hot sauce hipster,I found myself doubting the veracity of a chain restaurant hot sauce. Once again I was proven wrong. I'm sure one day my snobbery will be vindicated, but it seems as if I will have to wait.