Reaper Sling Blade Hot Sauce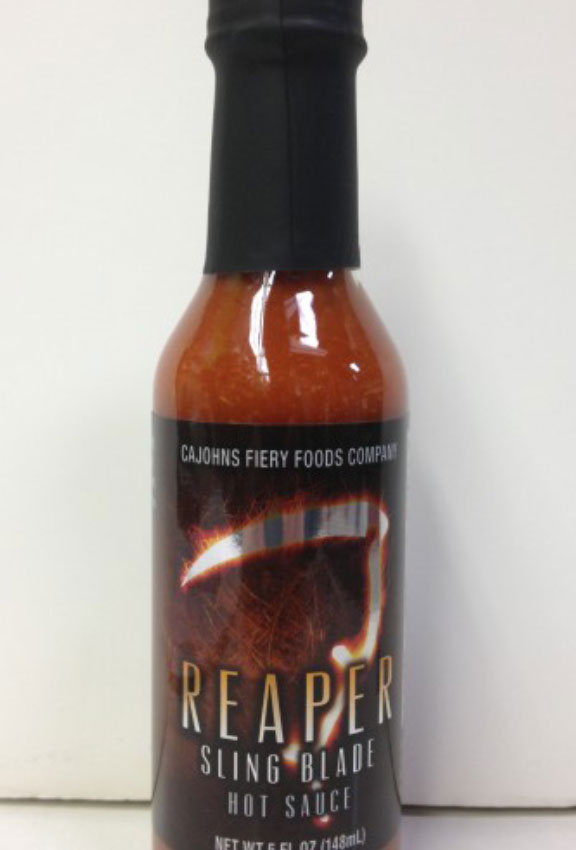 Maker:
Cajohns Fiery Foods Company
Westerville, OH, United States
Pepper(s):
Bhut Jolokia (Ghost Chili)
SHU
:

800,000
Ingredients:
Chile Peppers (Carolina Reaper, Bhut Jolokia), Apple Cider Vinegar, Distilled Vinegar, Tomato Paste, Lemon Juice, Onion, Garlic, Salt, Spices
Description:
Official:
"Ed Currie's Smokin Ed's Carolina Reaper is mixed with spices, lemon juice & tomato paste to form Sling Blade."
User Reviews
A4.4

Reviewed by davec on October 2nd, 2016

Taste: 5
Aroma: 5
Looks: 4.4
Heat: 3.6
Label: 4

Label:

The Reaper label lets you know that this is in fact a sauce containing the Carolina Reaper pepper. The sling blade look is pretty darn cool.

Looks:

The sauce has a somewhat rustic, freshly-processed look but a smooth texture and consistency. Exceptional mouth-feel! The color is a nothing special, same maroon color as many other hot sauces.

Aroma:

It smells amazing. Smoky (a hallmark of the bhut jalokias) and slightly garlicky. The heat comes through in the smell.

Taste:

The taste is the best part. I bought this sauce yesterday and put it on both my lunch and dinner. I honestly would put it out as a table condiment at my next barbecue. Despite containing two of the world's hottest chilies, it has a very practical taste, if that makes any sense.

Heat:

This is the only area in which I was slightly disappointed. The heat of the Carolina Reaper as well as the Ghost pepper were masked by the vinegar. Was expecting more from the ingredients and the smell. Still has a nice, steady burn that's oddly pleasant. Goes away quickly too. I don't think the Scoville rating you guys have up there is correct. I've had the Devil's Blood extract, which advertises 800,000 SHU, and that was a hell of lot hotter than this. The vinegar dilutes the capsaicin in this case.

Overall:

All in all, a really good sauce. Won't blow true chiliheads away with its heat, but I think the makers of this sauce weren't going for that. This is a great-tasting sauce that can go on just about any protein you'd care to spice up. Was hoping my first experience with the Carolina Reaper would be a little hotter, but I'm still happy I bought this sauce.