Rippin' Red Wing Sauce - Original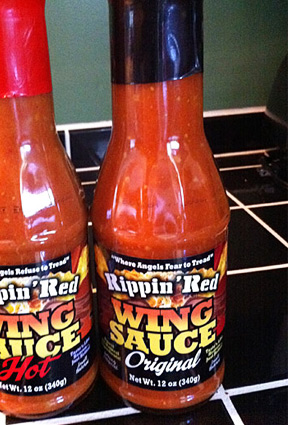 Maker:
Rippin' Red Sauce Company
Abingdon, MD, United States
Pepper(s):
Cayenne
Ingredients:
Cayenne Pepper, Vinegar, Salt, Butter, Parmesan Cheese, Garlic
Description:
Official:
"Rippin Red Wing Sauces are a 4 time National Award winning sauce. They are made with all Natural ingredients and have not additives or preservatives."
User Reviews
A+4.9

Reviewed by nfpa55 on February 1st, 2019

Taste: 5
Aroma: 5
Looks: 4.9
Heat: 4.6
Label: 4

Label:

Attractive design which goes hand in hand with the taste.

Looks:

Consistency is very good and great to toss wings and shrimp in.

Aroma:

The aroma is above and beyond! I heated it up in a small pan and poured it over my wings. While heating it up the aroma makes your mouth water...

Taste:

The taste is the best that I have had, hands down. I can assure you that you will not be disappointed. I wish local restaurants used this to prepare their wings, if they did they would run out of wings!

Heat:

I like heat, the HOT is HOT but not uncomfortably hot. The Mild is too Mild for me, that is why I combine the two sometimes.

Overall:

I have tried both the hot and Mild sauce and both are AMAZING! I sometimes mix the two for gatherings when I prepare butterfly shrimp. Toss the shrimp in the sauce and you have THE BEST BUFFALO Shrimp EVER! I highly recommend you try this. They also make a regular hot sauce "Forbidden Angel" which is very good on just about anything from Eggs to dinner dishes!