Smack My Sweet Ass & Call Me Sally Sweet Chili Hot Sauce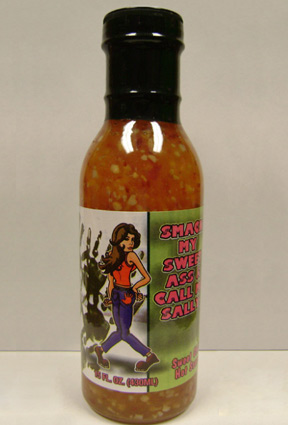 Maker:
Tijuana Flats
Winter Park, FL, United States
SHU
:

2,365
Ingredients:
Sugar, Water, Chili Peppers, Distilled Vinegar, Garlic, Salt And Natural Vegetable Gums
Description:
Official:
"Who knew getting smacked could be so sweet? Getting smacked to many times can be painful& possibly drive a person insane!! After all of these years of smacking heat, this new smacking will be sweet relief."
User Reviews
A4.4

Reviewed by Brad on May 1st, 2012

Taste: 4.9
Aroma: 3.6
Looks: 4
Heat: 1
Label: 3.9

Label:

The labeling is definitely cool, but it doesn't give much of an input on how the sauce inside will taste.

Looks:

It's more of a thick and gooey consistency, looks almost like an Asian spicy sauce.

Aroma:

It smells a little sweeter and more like an Asian spicy sauce.

Taste:

This is a great sauce. I'm not much for really hot sauces so this one does the trick for me. Although not too hot, it definitely leaves a little kick behind.

Heat:

The sauce isn't very hot at all. It's definitely more of a sweet and tangy flavor.

Overall:

This is a great sauce. I prefer my hot sauces to be a little more on the mild side so this is the perfect sauce for me. It has a great combination of sweet with a slight bit of hot to make the flavor linger.