Pain In the Ass Hot Sauce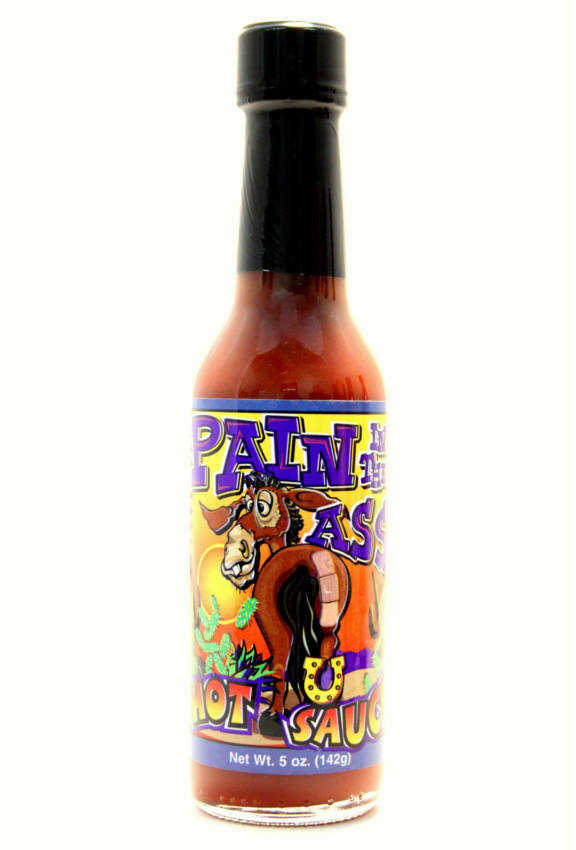 Maker:
Southwest Specialty Food
United States
Pepper(s):
Habanero
Ingredients:
Water, Habanero Pepper, Vinegar, Salt, Spices, Xanthan Gum
Description:
Official:
"This is the perfect Hot Sauce for your favourite PAIN IN THE ASS; Husband, Wife, Boss, Sister, Brother, Aunt, Uncle, Cousin, Child, Boyfriend, Girlfriend, Neighbor, Grandparent, Lawyer, Doctor, Telemarketer, Friend, Co-worker, Gardener, Customer or Car Salesman. Enjoy the laughter and the hot sauce!"
User Reviews
C-2.0

Reviewed by chiligeorge on March 26th, 2017

Taste: 2
Aroma: 1.6
Looks: 3.3
Heat: 2.7
Label: 4.3

Label:

Bright and colourful. The pictures, graphics and font capture a real western style vibe. The description is pretty interesting, i guess.

Looks:

The sauce has a watery consistency, but not as watery as tabasco. It drops inconsistently when poured, but mixes decently with the food. It bares a brick brown colour presenting tiny, dark red seeds (undetectable on the palate).

Aroma:

Sharp and cutting. Quite strong and tricky to balance a good sauce ratio. Pointy pepper pungency pokes persistently.

Taste:

Just as the smell, the taste is pointy and sticks out clearly. Not a sauce that accompanies, but more of one that shows off too much. Pepper punch.

Heat:

Its pretty hot. You only need a few drops. Its a flat burn and not attacking.

Overall:

Not very pleased. The labeling was the best part, but it just didnt deliver the sauce to me well. It only has uses for limited applications in my eye.