St. Pete Heat - Pineapple Habanero Sauce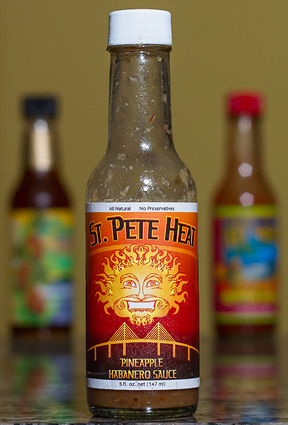 Maker:
Richards Hot Sauce
St. Petersburg, FL, United States
Pepper(s):
Habanero
Ingredients:
Pineapple, Distilled White Vinegar, Onions, Habanero Peppers, Natural Ginger, Orange Juice, Pineapple Juice, Garlic, Line Juice, Honey, Citric Acid, Salt, Spices, Xantham Gum
Description:
Official:
"Give your dinner a doze of solar power from the home of the Skyway Bridge. Just as the glorious gulf waters intensify the heat of the sun, this sauce delivers tropical flavor intensified with habanero heat that burns so good! Treat your tongue to a hot pineapple paradise."
User Reviews
B+3.8

Reviewed by Gerk on July 14th, 2012

Taste: 4
Aroma: 3.3
Looks: 2
Heat: 3
Label: 3.5

Label:

Playful without being a joke. The St. Petersburg bridge under a smiling sun marks this as a local sauce.

Looks:

Chunky and yellowish, it's not the most appealing looking sauce.

Aroma:

The smell is dominated by the pineapples, with just a hint of zing.

Taste:

A sweeter sauce that starts with the fruity pineapple flavors and ends with a light slap of habanero.

Heat:

While it's not a powerhouse of heat, it is a habanero sauce, and that means it's got some punch.

Overall:

The blend of sweet pineapple flavor and spicy pepper works well in this sauce. The spicy after heat of the habanero lingers, but doesn't build much, making this an easy sauce to indulge in. I find it works best on milder dishes like chicken or spring rolls.