The Original Australian - Hot and Spicy BBQ Sauce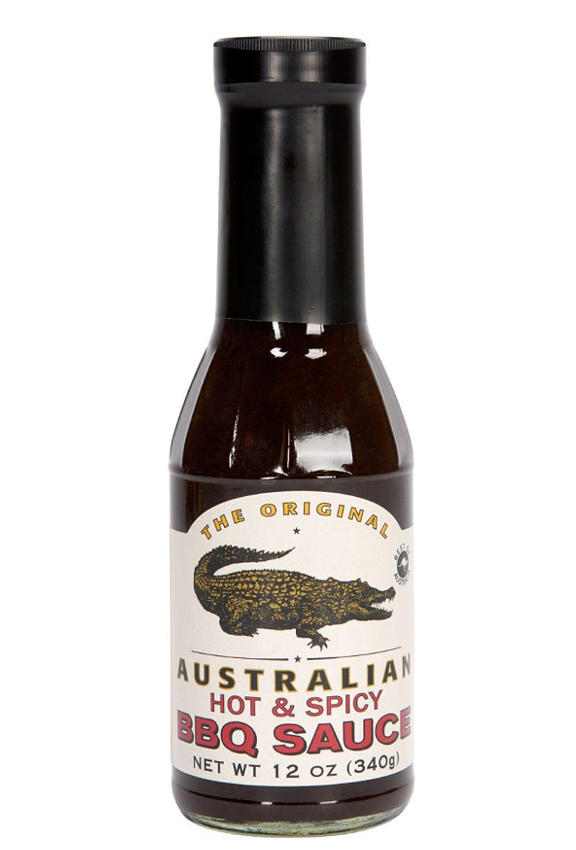 Maker:
The Original Australian
Sydney, Australia
Ingredients:
Tomato Puree (water, Tomato Paste), Cane Sugar, Malt Powder, Honey, Distilled Vinegar, Apple Juice Concentrate, Salt, Natural Hickory Smoke Flavour, Molasses, Tamarind, Spices, Caramel Colour, Dried Garlic, Dried Onion, Black Pepper, Dried Chilli Pepper, Xantham Gum, Citric Acid
Description:
Official:
"G'day. I have selected available ingredients for my fiery hot and spicy bbq sauce; sun-ripened tomatoes, purest honey, and the freshest ground spices, blended with other ingredients.
My hot and spicey BBQ Sauce has been ideal for your steaks, ribs, chicken and burgers all year round."
User Reviews
C2.5

Reviewed by chiligeorge on January 18th, 2017

Taste: 3.8
Aroma: 3.5
Looks: 2.2
Heat: 0.4
Label: 2.8

Label:

Big and bold, the text stands in your face and tells you exactly what it is. There is actually no lowercase letters on the entire bottle, other than the cursive signature on the back. Kinda looks like an old style cowboy feel appearance. Wide opening on the top of the glass bottle which makes pouring the sauce interesting. You either have lots go in or you have some trouble making a little go in.

Looks:

It sports a - and drips thickly, like a more watery honey. When mixed with your food, the dark colour blends your food with the shade and appears darker. It mixes averagely with your food.

Aroma:

It smells simply of smokey bbq sauce. The bold flavours ring as standard.

Taste:

As expected, it tastes like smokey bbq sauce. The ingredients mix very well together and nothing stands out. It accompanies your food well. Sometimes, depends on your pour, it could overpower your food. It is a strong bbq taste after all. I imagine this on.... err..... bbq meat.

Heat:

Pretty much nothing. The heat is pathetic. Just take out the 'spicy' from your label and call it a day. Those who do taste the heat will see this bbq sauce as tangy, punchy and has a spicy ring to it. I, personally, dont care for the sauce for its heat...

Overall:

As a sauce, its nice. As a hot sauce, its not nice. Its taste is typical of that of your standard bbq sauce but it may have some spiciness to it.