Walkerswood - Hot Jonkanoo Pepper Sauce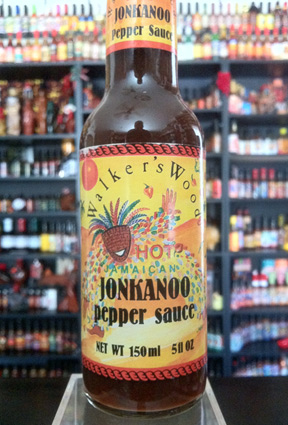 Maker:
Walkerswood
Jamaica
Ingredients:
Water, Hot Peppers, Vinegar, Salt, Sugar, Modified Corn Starch, Citric Acid, Scallions, Onions, Garlic Powder, Xanthan Gum, Potassium Sorbate, Thyme
Description:
Official:
"Walkerswood Jonkanoo Pepper Sauce captures the festive Jonkanoo spirit in this sunny and spicy hot sauce. The base is thick and rich, with chunks of Caribbean hot peppers, and the flavor is peppery hot with a pleasant touch of sweetness and authentic Jamaican seasonings. Walkerswood Jonkanoo Pepper Sauce will add festive fire to any savory dish while bringing a smile to your face!"
User Reviews
B3.6

Reviewed by KevinK on July 22nd, 2018

Taste: 3.7
Aroma: 3.8
Looks: 3
Heat: 3.4
Label: 5

Label:

Cool label that says what this hot sauce is all about. Looks like a quality oil painting almost. One of the best labels Ive seen....new label is not reflected in the picture above.

Looks:

Consistency almost of a thick ketchup, however it has too many seeds that almost get in the way of the otherwise perfect, thicker texture.

Aroma:

I get an aroma mainly of vinegar. Rather basic. Kind of wishing I would get a more fresh aroma of the actual peppers being used. Kind of masked.

Taste:

Vinegar, garlic, onion. Flavor profile best described as versatile....literally can be used on everything. Described by the manufacturer as having a slight amount of "sweet" taste...but Im not getting it. Savory sauce surprisingly good with potato chips or pizza.

Heat:

The heat level for me is hot, but not enough to make your experience uncomfortable. Will probably leave a little sweat on your forehead but not leave you in pain. If you're a hot sauce nut as I am, this will be a breeze. If you're the hipster kid that has only really used Sriracha before, you might want to sample a small amount of this before diving in.

Overall:

A good choice for an everyday sauce that heats you up, but not too much. The aroma and taste leave a slight amount to be desired however. Nothing besides the label really screams "Jamaican" to me but at the same time it's certainly not a bad sauce. Versatile flavor earns it praise from me, but the amount of seeds could be a problem for some uses.