Bandar - Spicy Mango Chili Sauce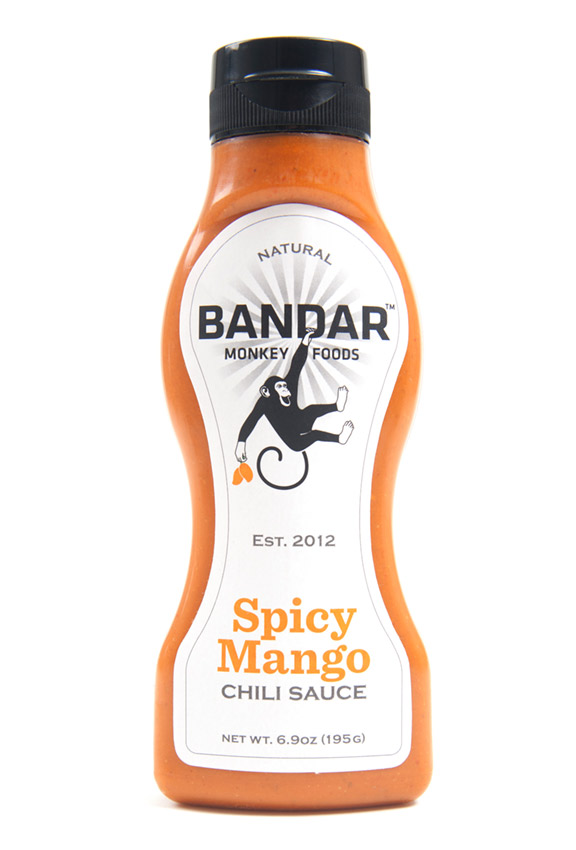 Maker:
Bandar Foods
Mumbai, India
Ingredients:
Mango, Water, Salt, Green Chili, Mixed Spices (chili Powder, Yellow Mustard, Fenugreek, Asafoetida), Non-hydrogenated Vegetable (Palmolein) Oil, Cilantro Leaves, Acetic Acid And Citric Acid
Description:
Official:
"Naughty or playful? You decide. We meddled with the achar pickling tradition to give you our Spicy Mango Chili Sauce. Its bold flavor and savory notes are great mixed in soups, rice, pizza, hot dogs and any other dishes that need a tangy lift."
User Reviews
B3.5

Reviewed by Thurston on August 2nd, 2015

Taste: 3.8
Aroma: 3
Looks: 3.5
Heat: 3
Label: 4

Label:

Simple but effective. The monkey swinging from the logo is fun and memorable.

Looks:

It has a muted orange hue. While much darker than a fresh mango, it definitely gives the impression of natural ingredients. It has a thick consistency with a slight chunkiness that is uniform throughout.

Aroma:

A strong smell of a variety of ground spices upfront with a faint undercurrent of fresh mangoes.

Taste:

The first thing I taste is a slightly sour fruitiness that rushes to the front before quickly giving way to the distinct taste of ground spices. It gives a strong impression of curry powder, which makes sense as a sauce inspired by Indian flavors. I am able to pick up cumin, turmeric and fenugreek. The initial spice blast is intense before quickly mellowing and lingering across the palate.

Heat:

A distinct but mild heat that I attribute more to the spices than the chilies. The heat hits quickly in the middle of the mouth that mellows very quickly to a pleasant, lingering "sunburn" throughout the mouth that seems confined to the front and middle of the palate.

Overall:

A unique sauce experience that I encourage everyone to try. As a fruit based sauce, I expected something very sweet and fruit forward but instead got a more complex, balanced experience. Given the natural sweetness of mangoes, I personally would have preferred a stronger fruit presence on the front end. It is also very mild from a heat perspective and is interesting as a spice based heat as opposed to chilies for something different. I could definitely see this sauce becoming a ketchup substitute for a lot of people.