Chile Chapters
Gift Ideas Under $35 for People Who Love Spicy Food, Hot Sauce, and Chiles — Updated 2020
Looking for a gift for the chilehead—someone who is really into chile peppers and hot sauce— in your life? We've collected some ideas to help with an interesting present (whether it's for Christmas, their birthday, or some other occasion).
You can't go wrong with a decent bottle of hot sauce. If you're going to go that route, I've given some suggestions for that in the last item on this list. If you're not into hot sauce yourself, it may be tricky to decide which one(s) to buy.
Make Your Own Hot Sauce Kit
The seller of this DIY hot sauce kit, Uncommon Goods, is my best kept secret for finding gifts that are both unusual and high-quality. This makes a great gift for someone who loves hot sauce and has never made their own before. It comes with dried peppers, some powders, vinegars, six empty 5 fl. oz. glass bottles, labels, sterilizing solution, a funnel, and even some gloves.
Here's another comparable hot sauce making kit available on Amazon, which is a few dollars cheaper and has good reviews. It has the materials necessary to create 3 unique sauces. It comes with all of the ingredients as well as three bottles with lids and dashers, three labels, funnel, gloves, sanitizer and recipe instructions.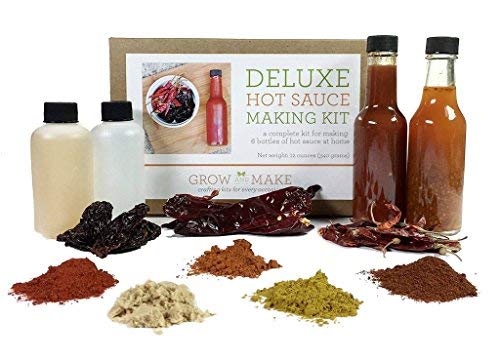 If the recipient of your gift has already brewed their own homemade sauce, then you may want to pass on this one, as they probably already have many of the ingredients. Though maybe not any empty bottles; there's another idea right there!
Spicy Snacks, Candies, and other Novelty Food Items — Less than $10
In the last few years, the number of stores stocking food items made with chilli peppers (ghost chilli, habanero, what have you) has skyrocketed. There are lots of small mom-and-pop operations producing these novelty food items.
Chile + Chocolate Bars — $5 to $7
Personally, I'm not a huge fan of the chilli pepper chocolate bars, but a lot of people love the combination of the two. I will still eat them. Here are two different options, in dark chocolate and regular chocolate.
A Weird & Spicy Food Item
For the daring eater fascinated with the extreme, or if you're going the joke gift route for a secret santa / white elephant / yankee swap, a weird food item is an idea to consider. When I was leaving a Pepper Palace store one time, my attention was grabbed by a chile flavored grasshopper:
Chapulines [Sample Pack] - Grasshoppers + Chiles
Yes, you read that correctly; grasshoppers. Apparently these are a delicacy in Mexican cuisine, and are eaten in some parts of the country. Especially in the state of Oaxaca, where they are even sold at sporting events. Usually they are roasted with garlic, lemon/lime juice, and salt. Not all chapulines contain chile pepper. They "can be served as a finger food or used in recipes to add an exotic flavor and to spice things up". Chapulines are a good source of protein. Yumm?...
Evil Hot Gummi Bears (Currently does not ship to the USA)
Giving your friend one of these unassuming looking gummi bears would be a nasty trick. Some the reviewers say that they mixed them in with regular gummi bears or gave them to siblings; not my idea! The fruity flavor (grape, apple, apricots) is infused with habanero, turning these into quite fiery beasts.
An alternative that ships to the USA could be this 3-pack of chile pepper gummies—they are larger, and have 3 different heat levels.
Spicy Lollipops
I came across one of these Etsy shops on social media. If you aren't into the form factor, the Hot Lollis shop also sells pieces of 'Spicy Glass Candy'.
Hot Lollies - Based out of Jersey City, New Jersey
These are made from tropical fruit purees infused with chile peppers, and come in different levels of heat. From Ghost Chile Tamarind to a mild Ginger Chile.
Leccare Lollipops - Based out of Athens, Georgia
They sell all different flavors. The hot ones have "just a touch" of heat. including a Sweet Sriracha and a Wasabi Pistachio.
The Hottest ___ - Snacks and Challenges
The brand Paqui received a lot of attention with the One Chip Challenge back in 2016. The single tortilla chip in each package was (and still is?) the hottest chip, made with the Carolina reaper pepper. Unfortuntely it's no longer for sale (except for a ridiculous price on Ebay), and they only have their ghost pepper chips for sale. Since then, some other items have appeared that are challenge oriented or claiming to be the hottest in existance.
The Death Nut Challenge (version 2) - Carolina Reaper Peanuts — $19.99
This challenge has 5 progressively hotter peanuts coated with the hottest peppers. Starting with a "mild" (still using the Carolina Reaper), and culminating in the "Death Nut"; sprinkled with 13,000,000 SHU capsaicin crystals.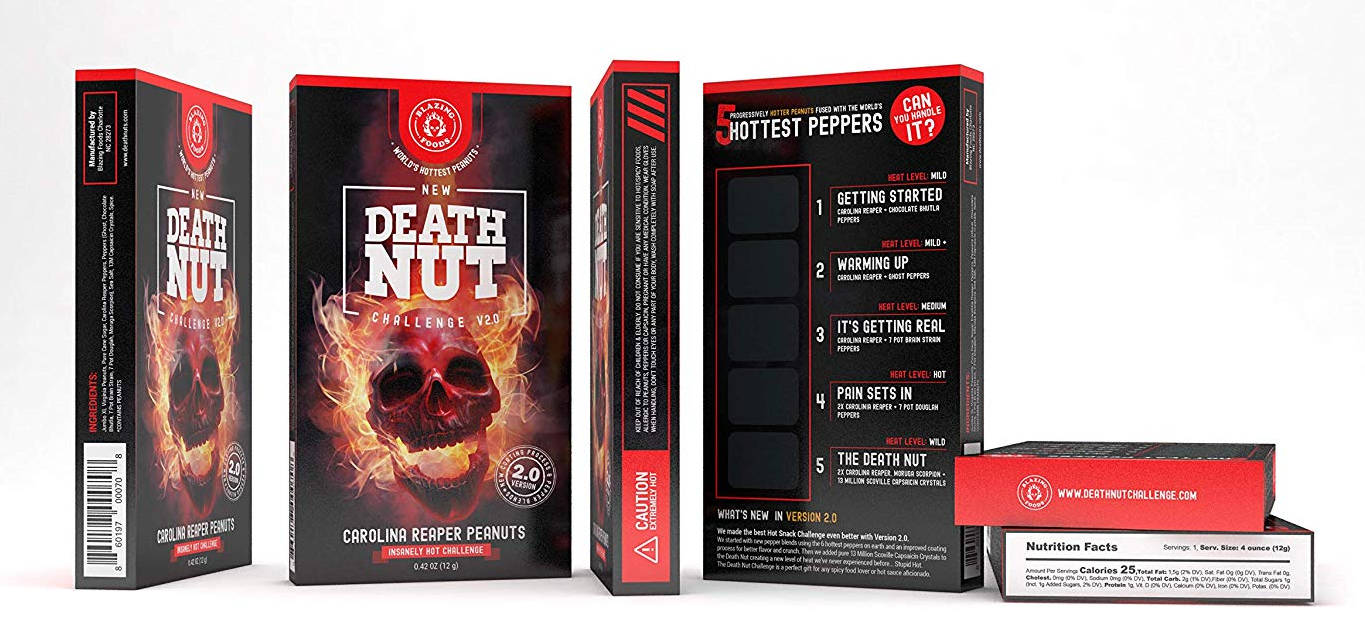 Culley's World's Hottest Ramen Noodles — $15.00
In the culinary world, spicy ramen challenges have started popping up lately. For some good ol' down home packaged ramen, Culley's sells these noodles, which say they're the "world's hottest". It has a flavor packet made with the Carolina Reaper pepper.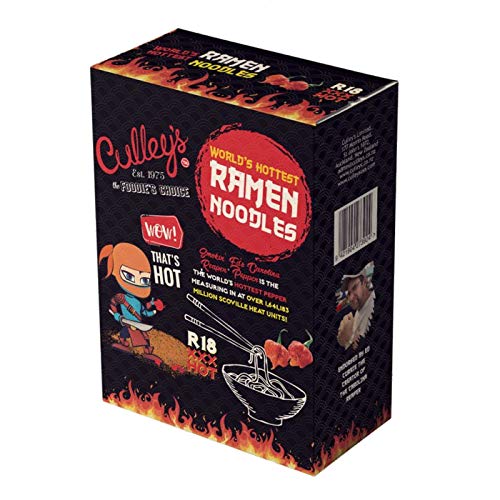 The Hottest Beef Jerky
I've seen a few different beef jerky products claiming to be the hottest in the world. I'm not sure which is the winner, but here are two options that both are using the Carolina Reaper and appear to be highly reviewed. Or you can browse them all yourself.
Jerky.com Carolina Reaper Beef Jerky — $9.99
Katie's - Scorpion XXX Beef Jerky — $9.99
For the Gardener: Chilli Pepper Seeds or Growing Guide
Chilli Pepper Growing Kit — $17
This chilli pepper growing kit is good choice, if you want to go with a self-contained gift box. In addition to the pepper seeds, it also comes with everything you need to start them; peat starter growing pots, peat blocks that expand when watered, plant markers, and growing tips.
Chilli Pepper Seeds — $3 to $7 per pack
It's best to buy specific hot pepper seeds from a specialized seed shop or local garden store, rather than somewhere like Amazon or Ebay. You want to make sure that you're getting exactly the variety that you ordered. Otherwise the grower might find an unusual surprise after weeks of nurturing their plant. It has happened to quite a few people.
There are hundreds to choose from. So here are a few quick pick recommendations if you're feeling the choice paralysis:
Carolina Reaper - The #1 hottest pepper in the world right now. For extreme heat seekers.
Fatalii - Similar to a habanero in heat, but a little different. The most common is a bright yellow. It is supposed to have somewhat of a citrus flavor.
Jalapeño - A good all around pepper to have on hand for different dishes.
Here are just a few reputable seed sellers. You may want to find a supplier that is local to your area. If the seller personally grows and harvests the peppers, they're more likely to know what they're selling:
Chile Peppers Growing Guide — $14 paperback
The Complete Chile Pepper Book:
A Gardener's Guide to Choosing, Growing, Preserving, and Cooking
This book is currently the most highly rated book on Amazon about growing chile peppers (4.5 stars with 79 reviews). It "shares detailed profiles of the one hundred most popular chile varieties and include information on how to grow and cultivate them successfully..."
For the Cook: Recipes and Spices
Recipe Book — $10 to $20
Now that so many recipes can be found online, cookbooks may not be as essential as they used to be, but there are a few pretty decent collections of spicy recipes in printed form. Here's one:
1,001 Best Hot and Spicy Recipes:
Delicious, Easy-to-Make Recipes from Around the Globe
This book is now in its 2nd edition, refreshed and revised. It's available in both Kindle and paperback. It is quite an extensive collection of recipes, "composed of the very best dishes from Dave DeWitt's collection of chile pepper-laden recipes from around the world." Included are recipes for BBQ, main dishes, hot sauces and salsas, kitchen essentials like pastes & chutneys, chilis and gumbos, and more.
View More Books with Spicy Recipes
If that one doesn't seem up their alley, there are a few more books look decent, such as one focused on spicy South Asian recipes, Chipotle, and Indian cuisine.
Chile Pepper Flakes — $6 to $13
Even the most casual of cooks that's a fan of fiery foods will have some sort of go-to spices on their rack. A basic red pepper, some dried habanero or ghost chile flakes, or one that combines multiple peppers. It's a gift that's both useful and cheap. The extra hot varieties may last quite a long time, as they only need the tiniest pinch.
Sonoran Spice - Habanero Flakes (4 oz.)
There are a good amount of habanero flakes here. This is a pretty good value for some very hot flakes. Made from "hand picked" habanero chiles from eastern Mexico.
Hell Flakes - A fiery five pepper blend (1.9oz)
I've tried (and used up) these before and am a fan of the heat and the flavor.
Roasted Carolina Reaper Seasoning Garlic Grill Rub
Are you buying for a meat eater that likes to use the grill and likes the super hot? This grill rub uses the hottest pepper, the Carolina Reaper. It is salt-free and contains "black pepper, garlic, orange zest, onion, Carolina Reaper chile flakes, red bell pepper, green bell pepper, Aleppo pepper, celery seed, garlic flakes and marjoram."
Hot Spices Variety Pack — $35
"Hot Box" by Sullivan Tea Shop - Ships from New York
Not only does this collection of spices include 9 varieties of powders and pepper flakes, but the packaging is exquisite. Each spice comes in a glass vial with a cork, and a windowed metal case to hold them all. They also sell a "Scorched Earth Pepper Box" for $18 that contains 3 vials with powders made from ground Carolina Reaper, Trinidad Scorpion, and ghost peppers.
Membership to a Hot Sauce of the Month Club
How about a hot sauce of the month club? These places send out different handpicked hot sauces right to your doorstep every month. A lot of people like this concept because they can look forward to its arrival, and there is always the surprise of what it includes. Plus, it keeps that hot sauce cabinet stocked. Both of these offer gift options for a single month or multiple months pre-paid.
Fuego Box - Focused on craft & small-batch hot sauces
You can choose either 1 or 3 bottles per month. There is a quarterly option too. It is priced at $12.95 to $29.95 per month.
Hot Sauce of the Month Club by Heat Hot Sauce Shop
This club also offers 1 or 3 bottles per month. It is priced similarly, at $12 to $26 per month.
Some Other Gifts With a Chile Pepper Theme
Chilli Pepper Lights - Red, Green, and Yellow
Decorate for Christmas, Day of the Dead, or no occassion at all with this string of 35 lights shaped like chilli peppers. A similar light set is also available in red.
Handmade Glass Chilli Pepper Earings - Ships from Maryland, USA
These artisan earings are made to order. They're composed of: lampwork glass, crystal, wire wrap, 14 carat gold fill ear wire, gold plated surgical steel ear wire. This is another idea for the cook or foodie in your life. Looking for something less pronounced or colorful? Check out these silver minimal chilli pepper stud earings instead.
This is a pretty well-designed poster containing a lineup of fresh chile peppers, along with their names underneath—bordered with an ornate pattern and with a tan background. It is at your standard movie poster size of 24 by 36 inches, and available in a regular printing and laminated. There is an alternate version of the same poster available with dried chile peppers.
For the Vinyl Collector: Dragon Blood Elixir's "Hot Sauce Singles Series" - If You're Lucky!
Dragon Blood Elixir has been putting out limited edition paired combinations of a song and a hot sauce. They're now at Volume #3. I think this is a really unique idea that combines two different types of experiences, and helps promote musicians.
The ones pictured here are sold out, but there may be a new one available. You'll have to keep an eye out on their blog or join their newsletter. They do a free random giveaway through Twitter if you catch it at the right time!
Yes, I've put an item on a gift guide that you can't usually buy. I apologize. Dragon Blood also has a "Sauce du Jour", which is where they sell small batch sauces that come and go. Right now they have a Smoky Maple Pumpkin Pie sauce still available, which sounds absolutely delicious.
Which of course leads us to...
Bottles of Hot Sauce! (Not the Boring Kind) — $5 to $10
Getting a chilehead a bottle of Tabasco Sauce is like getting a craft beer fanatic a bottle of Budweiser. I'd also avoid some of the more standard Crystal, Cholula, and Louisiana type sauces. Be careful of ones with gimmicky names. Try something with some different flavors and ingredients!
It's hard for me to pick favorites here. You can't go wrong by looking at the winners of this year's (or previous year's) Scovie Awards. Each year, around a hundred food professionals do blind tasting and rate their favorites in many categories of fiery foods (also including BBQ, rubs, salsa, etc). Here are some of the winners in the hot sauce categories that would make fine gifts:
I've linked to the sauce maker's site where available above, so they can be bought directly. The Heat Hot Sauce Shop also has an "Award Winning" category that is easy to browse, that includes many of these sauces, as well as others. If you don't want to buy online, look for a local shop that has a huge selection (like in the picture above). The employees there will likely be able to help you out with a suggestion.
You also could contemplate buying some hot BBQ sauces or salsas, depending on the tastes of who you're shopping for.
​That's it for now. Have other gift ideas? Have you received a gift that was on or off the mark? Feel free to post in the comments below.

References / Attribution
Photo: Plántulas de chile serrano by Candy Tale [Cropped] (CC BY 2.0) via Flickr
Photo: Hot Sauce by VasenkaPhotography

(

CC BY 2.0

) via Flickr
---