Beehive Brothers - Jalapeno Hot Sauce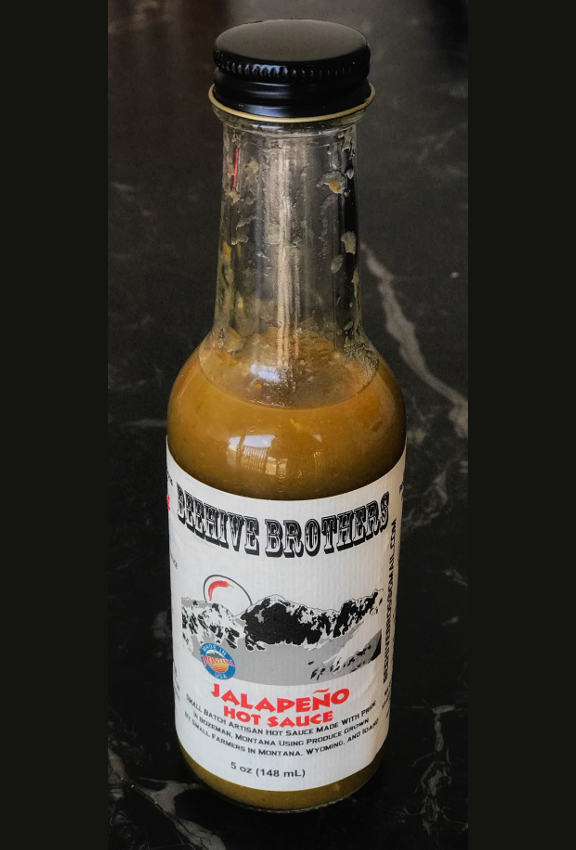 Maker:
Beehive Brothers
Big Sky, MT, United States
Pepper(s):
Jalapeño
Ingredients:
Vinger, Jalapeno Peppers, Garlic, Salt
Description:
Official:
"Small batch artisan hot sauce made with pride in Bozeman, Montana using produce grown by small farmers [sic] in Montana, Wyoming, and Idaho. Beehive Brothers is a collaboration between two brothers living in Big Sky, Montana who are dedicated to eating and sharing locally sourced food."
User Reviews
A+5.0

Reviewed by TrvlAnimal on March 24th, 2018

Taste: 5
Aroma: 5
Looks: 5
Heat: 2.5
Label: 4.7

Label:

Well done. Professional. Largely black and white with colorful detail where is matters. Bespeaks it roots in Montana's mountains. The label is not smeared with gratuitous self-promotion.

Looks:

Looks like a high-quality verde hot sauce, slightly chunky, with the right colors, and slight separation at the top of the bottle.

Aroma:

Definitely a tart and vinegary aroma. Hits your nostrils in a pleasant way as well-made sauces do.

Taste:

Taste is tart and vinegary. The jalapeño shines through with most of its greenness.

Heat:

This sauce ranks at the bottom of the scale printed on the label and is called mild. I think it a bit spicier than mild. Will not give you a kick in the morning when you are over the porcelin throne but has a very nice spice in the mouth. I did not buy it for its heat. Flavor was what I was after.

Overall:

I found this on a skiing trip to Big Sky, Montana. The breakfast diner was serving this alongside Tabasco and another hot sauces. This won my heart and I went home a bottle of it and two other sauces from the Beehive Brothers. See my other reviews. One of those sauces was their red ripe serrano hot sauce. I paired that with the jalapeño sauce on my recreation of huevos divorciados: two eggs over-easy, one doused in red sauce, the other in green. Them's some great huevos. Maybe extremely hard to get outside of Southern Montana, but worth the effort. This is clearly not a mass-produced sauce, today, 3-24-18.