Deer Camp - Big Bore XXX Hot Sauce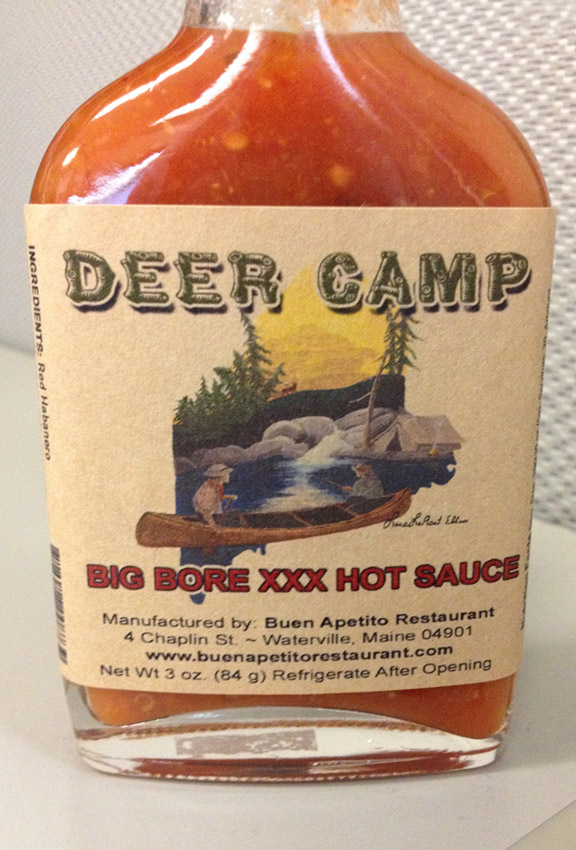 Maker:
Deer Camp Sauce
Waterville, ME, United States
Pepper(s):
Habanero
Ingredients:
Habanero Peppers, Carrot, Apple Cider Vinegar, Lemon, Lime Juice, Agave Nectar, Garlic, Coriander, Salt
Description:
Official:
"While our award-winning Big Bore XXX Hot Sauce is not for the faint of heart, it is for those who love bold, balanced flavors. Made of red habanero chilies for heat, carrot, apple cider vinegar, fresh lime juice for zing, and sweetened by agave nectar, this might just be the most addictive condiment you'll ever try.

One thing: exercise caution when using, or your mouth may never speak to you again."
User Reviews
A-4.0

Reviewed by Thurston on March 19th, 2016

Taste: 4
Aroma: 3.7
Looks: 3.7
Heat: 2
Label: 3

Label:

Simple brown paper wrapper with a summer camp font. A guy canoeing up to a waterfall finishes the bucolic New England scene.

Looks:

Has an attractive orange color with chunks of the various ingredients visible. A thick and chunky texture give it a rustic, homemade look.

Aroma:

A bright, fruity aroma. Pleasant notes of acid from the cider vinegar and lemon. Distinct habanero fruit with an undercurrent of garlic.

Taste:

Cider vinegar and citrus hit first followed by a solid blast of garlic. There is a pepper undercurrent with a salty finish. Quite good.

Heat:

Very mild. A slight tingle throughout the mouth that gently lingers in the back of the throat. With a name like "Big Bore Triple XXX," I expected more.

Overall:

To steal a joke, this is definitely geared toward the Yankee palette. Quite mild in the heat department but has a robust and delicious flavor. This would go well with all kinds of dishes and would make a great all around condiment.