Cholula Original Hot Sauce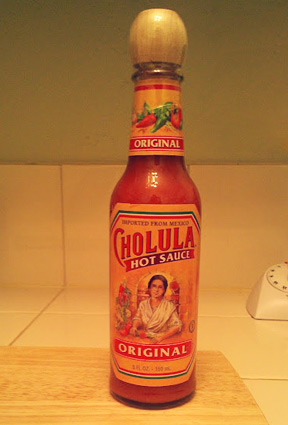 C

2.3

/

5

BASED ON

3

REVIEWS
Maker:
Cholula
Mexico
Pepper(s):
Piquin, Arbol
SHU
:

3,600
Ingredients:
Water, Peppers (Arbol And Piquin), Salt, Vinegar, Spices, Xanthan Gum
Description:
Official:
"Cholula Hot Sauce Original is all about Flavor, Fire and Fun. More than any other Hot Sauce, Cholula's delicious blend of piquin peppers, chile arbol and signature spices enhances food flavors without overpowering them."
User Reviews
F0.1

Reviewed by season818 on September 17th, 2018

Taste: 0.1
Aroma: 0.1
Looks: 0.1
Heat: 0.2
Label: 0.1

Label:

Who cares about labeling when a "hot sauce" tastes this bad?

Looks:

Who cares about looks when a "hot sauce" tastes this bad?

Aroma:

Who cares about aroma when a "hot sauce" tastes this bad?

Taste:

I created an account on this site just to remind people this is barely a food condiment, and it's most certainly not a hot sauce. It tastes of plastic and cardboard. A sauce should enhance your dining experience; this one outright ruins food. WHY IS THIS IN NEARLY EVERY RESTAURANT IN COLORADO?!

Heat:

Hot like ketchup! Smooth like ammonia!

Overall:

Do you like ketchup but think it's too flavorful? Do you love eating plastic but hate the safety risks? This is truly a hot sauce for people who hate hot sauces and haven't taste buds.

B+3.9

Reviewed by macmantrl on March 21st, 2015

Taste: 3.8
Aroma: 3.9
Looks: 4.1
Heat: 3
Label: 4.1

Label:

Well designed, pleasant graphics. The bottle is very distinctive with its wooden twist-off cap and the woman on the front.

Looks:

Nice reddish orange color. Consistency is slightly thin. Subtle flecks of peppers.

Aroma:

Compared to other hot sauces, the smell is very weak. It has a pleasant, not pungent, aroma.

Taste:

Very salty (especially on its own). The peppers and vinegar are blended well, creating a slightly tangy sauce.

Heat:

Medium heat, it comes on a little strong and then backs off.

Overall:

I have fond memories of using this sauce at Quizno's, the first time I had even seen or tried it. It has a really nice flavor that's not too strong, complementing almost any meal. Even my favorite pizza place (Patxi's Pizza) has this on every table.

B-3.0

Reviewed by Gerk on July 14th, 2012

Taste: 3.8
Aroma: 3.3
Looks: 3.5
Heat: 1.3
Label: 3

Label:

It's a classic label that's been so consistent over the years. It's not exciting, or shocking as some newer brands, but it doesn't need to be. When you pick up a bottle of Cholula you know what you're going to get.

Looks:

Very consistent blend with a smooth even texture. This sauce pours fast, and spreads easily.

Aroma:

Mostly vinegar, but with a hint of spice.

Taste:

A smooth blend of vinegar and piquin peppers. It's on the milder side, but without being watery.

Heat:

Not a lot of heat. If you are a hot sauce enthusiast you will probably find this one lacking in the punch department.

Overall:

Cholula is a classic, and it deserves to be. It's a great blend of traditional sauce flavors. I find it to be a step up from Tabasco which tends to be to heavy on the vinegar for my taste. It's not terribly hot, but that means it can go with more things since it's not overpowering. A solid choice when you want to add a hint of spice to your tex mex dish.