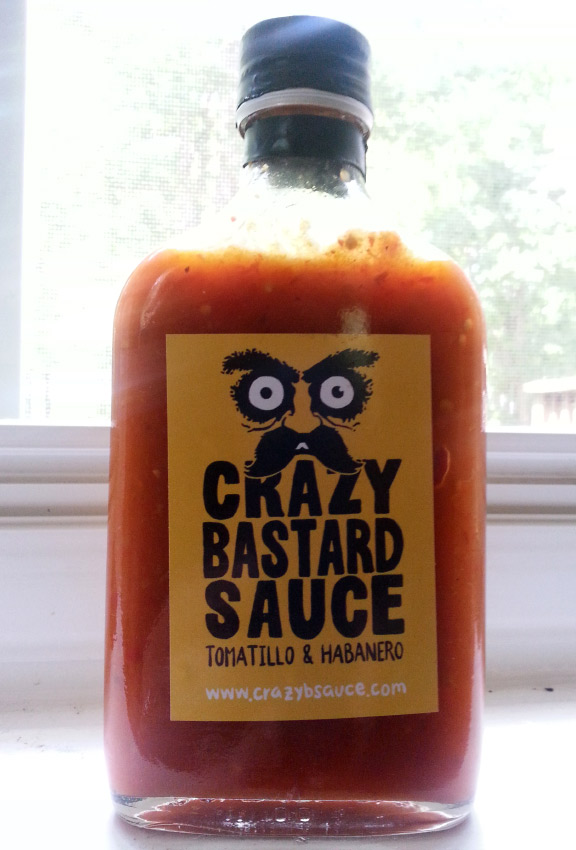 Maker:
Jonathan O Reilly
Berlin, Germany
Pepper(s):
Habanero
SHU
:

220,000
Ingredients:
Bell Pepper, Tomatillo, Onion, Habanero, Vinegar, Apple, Lime, Garlic, Salt, Pepper
Description:
Official:
"Roasted tomatillo and habanero with caramelised onion and garlic. Notes of lime and apple. Heat that doesn't overwhelm or mask the flavour. Thick, red and fruity."
User Reviews
B3.6

Reviewed by Onfirebabies on August 5th, 2014

Taste: 4
Aroma: 4
Looks: 4.5
Heat: 3.5
Label: 5

Label:

A pair of crazy eyes with a hipster envy inspiring mustache. Bold black type on a yellow gold background. One of my all time favorites!

Looks:

A fairly thick orange/red sauce. There are bits of seed and spice throughout giving it an interesting look.

Aroma:

A nice blend of smoky vinegar with a hint of carrots tomato and lime.

Taste:

This is a pretty tasty sauce. A little tomato, a little carrot, unmistakable habanero. It definitely complemented the samosa I tried it on.

Heat:

Its a dull sort of burn that by no means took my breath away. Its there, it lingers a bit,, nothing an experienced hothead would be uncomfortable with.

Overall:

I love the label and I wanted to love the sauce. Not quite in love, but Its a solid hotsauce. I was rather intrigued that it has tomatillo in it. I have never seen that before and it gets points for creativity.