D'Elidas - Red Habanero Pepper, Pure Pulp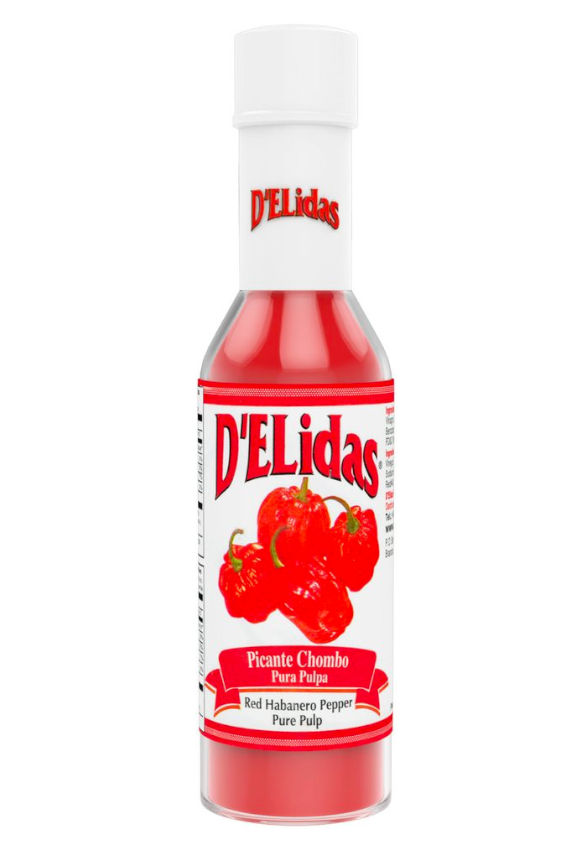 Maker:
D'ELidas
Panama
Pepper(s):
Habanero
Ingredients:
Selected Red Habanero Pepper, Vinegar, Water, Salt, Xanthan Gum, .1% Sodium Benzoate, Corn Starch Mod., FD&C Red#40, Carmel Color
Description:
Official:
""Picante Chombo Pura Pulpa":
If you love hot sauce...you absolutely have to try D'Elidas. Panama's most famous hot sauce, D'Elidas is a wonderfully blended sauce made from Scotch Bonnet or Habanero Peppers, Mustard and Spices."
User Reviews
A-4.0

Reviewed by spark10997 on March 23rd, 2015

Taste: 5
Aroma: 4
Looks: 3
Heat: 4
Label: 4

Label:

It has pictures of red habanero peppers. I like the way they capitalize the first three letters. It's D'ELidas. I am not a Latina so I do not know what that means...

Looks:

It's red and chunky. It has some flowing consistency and reminds me of some Asian chunky and runny runny sauce that you find at a Vietnamese restaurant.

Aroma:

little vinegary? also pretty spicy. Kind of remind me of tabasco sause smell because of the vinegar smell.

Taste:

It is the best hot sauce I have ever tasted!!!! I fell in love. Once you taste it, you'll feel like you need to take it everywhere. I bought a bottle in Panama and brought it back here, and now after two days I am almost done with the first bottle.

Heat:

It is pretty hot. I love to dump hot sauce all over my food, so my whole mouth becomes a little achy and burning. It is a good kind of burning, though.

Overall:

When I went to Panama for the first time last week, I fell in love with this wonderful sauce. I have only tried the red bottle which I am reviewing right now. In panama, I believe the red one is the most famous one since all restaurants had this one. However, delidasusa.com sells the yellow bottle mainly. I LOVE THIS SAUCE! I usually pour sriracha sauce on every dish that I eat. But now i can't stop eating D'ELidas.