Dinosaur Bar-B-Que - Devil's Duel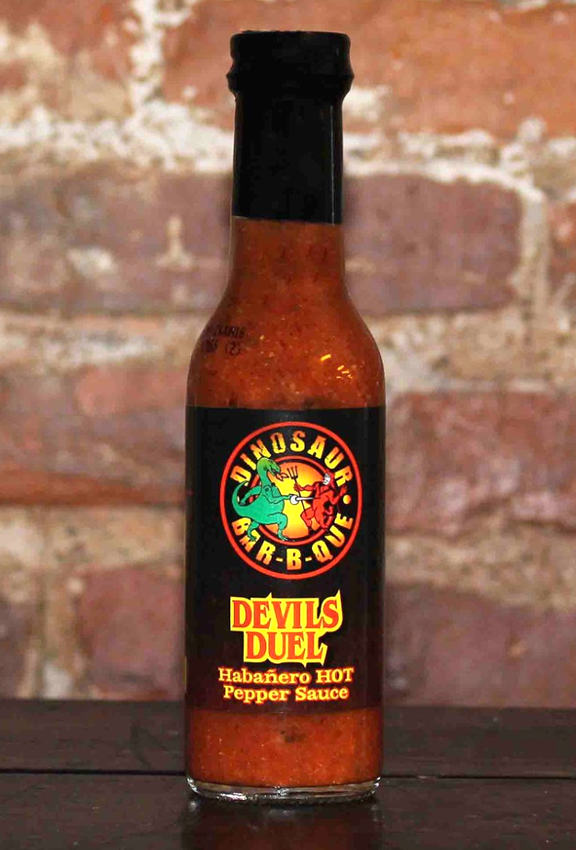 Maker:
Dinosaur Bar-B-Que
Syracuse, NY, United States
Pepper(s):
Habanero
Ingredients:
Water, Mustard, Vinegar, Habanero Peppers, Sugar, Garlic, Onion, Xanthan Gum, Green Bell Pepper, Celery, Caramel Color, Lime Juice, Spices.
Description:
Official:
"Habanero hot pepper sauce."
User Reviews
A-4.1

Reviewed by Bailz on March 31st, 2018

Taste: 4
Aroma: 4.3
Looks: 3.6
Heat: 4.1
Label: 3.1

Label:

Pretty basic but it does have Satan fighting a dinosaur.

Looks:

Medium consistency, spice flecks in a burnt sienna sauce.

Aroma:

Smells like a smoky spicy party. One of the better noses.

Taste:

Really nice blend of spice and vinegar. The garlic supports nicely. Onion in the distance.

Heat:

Quick burn, medium length, pleasant burn.

Overall:

Really solid grocery store sauce. I'd highly recommend and I think the price point is like 5 bucks. Well balanced and complex.