Devil's Duel: Habanero Hot Pepper Sauce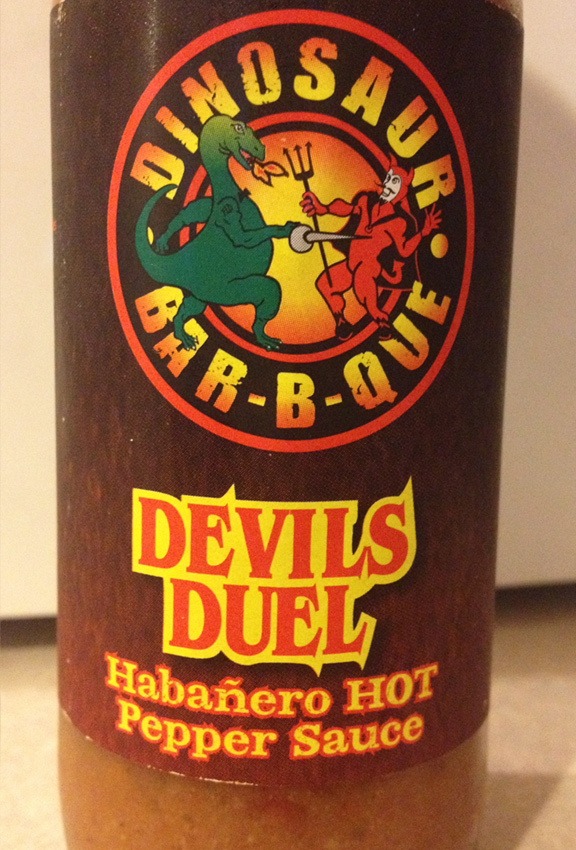 B+

3.9

/

5

BASED ON

2

REVIEWS
Maker:
Dinosaur Bar-B-Que
Syracuse, NY, United States
Pepper(s):
Habanero
Ingredients:
Water, Mustard (mustard Flour, Vinegar, Salt), Vinegar, Habanero Peppers, Sugar, Garlic, Onion, Xantham Gum (natural Food Fiber), Green Bell Pepper, Celery, Caramel Color, Lime Juice, Spice Extractives.
Description:
Official:
"Fiendishly Hot...brings hellfire to your tongue. Gluten Free & All Natural."
User Reviews
A-4.0

Reviewed by ronniemiller on October 25th, 2017

Taste: 4.5
Aroma: 3.5
Looks: 4.5
Heat: 4
Label: 3.5

Label:

Picture says it all. There is a fire breathing dinosaur sword fighting the devil.

Looks:

The sauce is nice n thick, and you can see chunks of peppers. Nice pour.

Aroma:

Hot n Garlicy smell. Mustard scent really cuts through.

Taste:

Starts out with tangy(maybe mustard), savory garlic flavor, then the peppers hit you mid tounge.

Heat:

a little bit goes a long way with this sauce. If you accidently overpour, watch out. Not life ruining.

Overall:

I've started doing a hot sauce of the week that. I'm dreading the end of this week.

B+3.8

Reviewed by Thurston on November 15th, 2015

Taste: 3.9
Aroma: 3.8
Looks: 3.6
Heat: 3.5
Label: 3.7

Label:

A fire breathing dinosaur dueling (and defeating) a goateed red devil with a pitchfork. Fun even if the graphic is a little small.

Looks:

An attractive mellow orange. Flecked with spices, peppers , and garlic. Slightly chunky with a relatively quick pour.

Aroma:

A pungent mix of garlic, onions, mustard (!) and habanero.

Taste:

A pretty unique taste. Sour notes of mustard and vinegar with a punch of garlic and onion upfront. The sweetness of the peppers is pronounced. The sauce is complex enough that the flavors shine through before the heat.

Heat:

The heat starts in the middle of the palate before blooming in the back of the throat. A lingering, noticeable heat that isn't overwhelming but builds A delayed, pronounced burn.

Overall:

Really good. The addition of mustard is relatively unusual. and brings a nice complexity of flavor. The taste of the peppers, garlic and onion really shine, giving the sauce a fresh flavor. There is a definite heat but it is not overpowering. A pleasant burn.