Don Ricardo Sauce Co. - Original Pique Sauce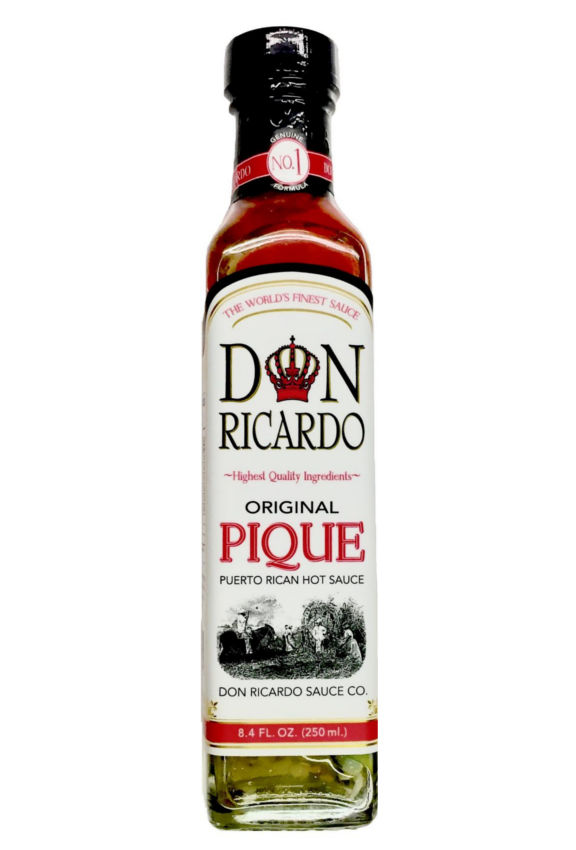 Maker:
Don Ricardo Sauce Co.
Ocala, FL, United States
Ingredients:
Vinegar, Peppers, Pineapple, Garlic, Olive Oil, Parsley, Recao, Salt, Spices, Bay Leaves, Citrus Juice
Description:
Official:
"They call theirs hot sauce,
​THIS IS PIQUE."
User Reviews
A+5.0

Reviewed by louis on July 18th, 2018

Taste: 5
Aroma: 5
Looks: 5
Heat: 4
Label: 5

Label:

Very classic and very elegant. Not your typical crazy off the wall label. Traditional with gold metallic details that shows its a high end product. It is very well done!

Looks:

Unlike your typical hot sauce. It looks like a Southern pepper Sauce, but with a lot of extra goodie in it. It is thin, but it still sticks to your food, maybe because of the olive oil. Looks like a hand crafted hot sauce made just for me. Everything seems to be hand packed, a lot of love went into it. I would say that's how they do it on the island with this style of sauce.

Aroma:

Smells fantastic!!!! Layers apon layers as soon as you crack the top. Olive oil, pineapple, Habaneros, garlic, fresh Recao (culantro), oregano and what ever else is in it. It's like Puerto Rico in a bottle!

Taste:

Taste as good as it smells and looks! Can't really describe it has so much depth to it. Very fresh tasting! I would say the flavor is in a class of its own. You can taste each ingredient on it's own and taste it all at once. Very unique!

Heat:

Like a roller coaster. starts out sweat from the pineapple and then it starts heating up from the Habanero peppers. Not to hot, something that one could use everyday!

Overall:

Pretty amazing really. From the 8.4 oz. square bottle, to the label, to being able to see every ingredient! The taste, the smell, could use it on pretty much everything from pizza to seafood, hamburgers to soups and even collard greens and salads. What I think would be good is after the liquid is done I will try taking all the peppers and other ingredients and try mixing it with some sour cream or cream cheese. Should be great as a dip for vegetables and chips. A true hand crafted sauce. Awesome sauce and I will be buying this again!