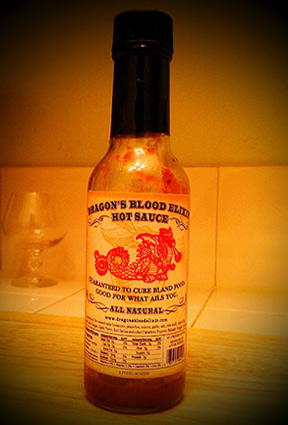 Maker:
Dragon's Blood Elixir
Woodstock, CT, United States
Pepper(s):
Habanero, Jalapeño, Red Savina
Ingredients:
Red Savina Habaneros, Other Habaneros, Fire Roasted Salsa (tomatoes, Jalapenos, Onions, Garlic, Salt, Citric Acid), Apple Cider, Apple Cider Vinegar, Apple Puree, Balsamic Vinegar, Sea Salt
Description:
Official:
"Dragon's Blood Elixir hot sauce is guaranteed to cure bland food. The brain-child of Doug Crane, a chef from Woodstock, CT, Dragon's Blood Elixir is made in small batches with locally grown apples and habanero peppers.

The Signature Sauce...
Sneaky hot with apple cider overtones, made to go with food. Try it on eggs!"
User Reviews
A4.5

Reviewed by HSF on June 17th, 2012

Taste: 4.5
Aroma: 4
Looks: 3
Heat: 3.2
Label: 4.8

Label:

The single label on the front is both simple and elegant. The old-timey late 1800s style goes along with the tagline "Guaranteed to cure bland food. Good for what ails you". The blue title font is crisp along with the flourishes beside it. The dragon logo is presented as if created by red rubber ink stamp, making it feel like some imported cure. If you look closely, the transparent tan image behind it is an apple.

Looks:

It is very loose, and pours more quickly than I would like; almost as a liquid. It's a fairly transparent red-orange brown with some medium chunks. Liquid bleeds out from the center of the drop after pouring.

Aroma:

It smells like opening a jar of salsa, with a hint of apples. The apple cider vinegar is noticeable as well.

Taste:

The flavor is mostly tomato-based, and has a rich complexity to it that I enjoy. You taste a lot of the "fire roasted salsa", some salt, and the sweetness from the apple cider, apple puree, and other ingredients. I want to use this sauce on everything.

Heat:

It slowly ramps up to a medium level of heat in the aftertaste, from the habanero, jalapeno, and red savinas. It's not too overpowering or too weak, and balances well with the flavor.

Overall:

This is a versatile and appetizing tomato-based sauce with some non-standard ingredients and a distinctive taste. It succeeds in combining a pepper sauce with a salsa, while still remaining unlike a salsa and having a depth of other interesting flavors. My only complaint is that it gets used up too fast, because of how thinly it pours. That just means that I'm going to have to order another bottle. I got this directly from the dragonbloodelixir website, which sells a few other varieties of hot sauce and condiments. Chef Doug creates this sauce in Connecticut using fresh local hot peppers and apple cider vinegar, and taste tests every batch. The quality really shines through. It may not be the elixir of life, but it surely cures bland food.