El Yucateco - Caribbean Habanero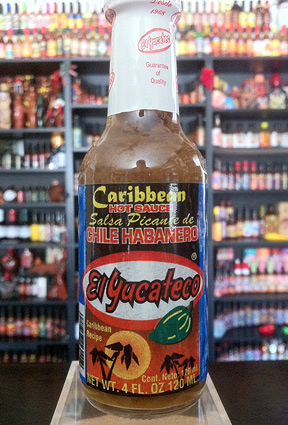 B

3.4

/

5

BASED ON

3

REVIEWS
Maker:
El Yucateco
Mexico
Pepper(s):
Habanero
SHU
:

5,000
Ingredients:
Water, Habanero Pepper, Carrot, Salt, Spices, Acetic Acid, Onion Powder, Citric Acid, Xanthan Gum, Potassium Sorbate, Citric Acid, Calcium Disodium EDTA.
Description:
Official:
"This sauce is a perfect blend of yellow habanero peppers and fresh carrots, a source high in Vitamin A and Beta-Carotene. Its slightly sweet flavor and mild heat deliver the traditional flavors of Caribbean Cuisine. Enliven your everyday breakfast eggs, soups or even your favorite pizza."
User Reviews
A+4.9

Reviewed by Bentcompass on July 20th, 2017

Taste: 5
Aroma: 4.2
Looks: 4.5
Heat: 4.6
Label: 3.5

Label:

It's not about the label. The label looks a bit amateurish, but that's frequently as much as asset as a liability.

Looks:

Brown orange. Thick. Attractive. The sauce doesn't display visible spices and is homogenous. It will stick to items well.

Aroma:

Very nice. The sauce displays hints of heat and vinegar atop a base of pepper and tomato.

Taste:

This has become my favorite sauce! Good balance of tomato, pepper and vinegar without tipping too far in any direction.

Heat:

Builds to pleasant strong burn.

Overall:

I really enjoy this sauce. Well rounded flavor not overwhelmed by the heat or habanero pepper taste. Excellent and versatile on many things, from eggs to tacos to flautas, etc. Note: I'm not sure what's up with the negative review, but it seems like a hit job to me.

F0.2

Reviewed by Chinense on July 1st, 2016

Taste: 0.2
Aroma: 0.4
Looks: 1
Heat: 0.1
Label: 0.6

Label:

One of the less attractive labels on the market, kind of embarrassing, but could be charming as well?

Looks:

Looks artificial and fake. A bit odd. I tried it at a local Mexican restaurant on tacos.

Aroma:

Like a paper plant or other industrial factory, really off putting.

Taste:

I was desperate for heat so I figured I would try this despite my reservations based on the ingredient list. Tastes like EDTA (Ethylenediaminetetraacetic Acid) Calcium Disodium, which is a chemical created from the combination of Formaldehyde, Sodium Cyanide, and Ethylene Diamine. This poison is added to many processed foods including, sandwich spreads, salad dressings, sauces, sodas, and many canned or pickled foods. The purpose is to prevent rancidity, discoloration, and the separation of oils and fats.

Heat:

Irrelevant as it is full of harsh chemicals, who wants this in their body?

Overall:

The fact that this product is made from chemicals one would not feed to a wild animal, that does it for me. There are so many great, all-natural, safe products on the market, one should avoid this like the plague. In the medical community, Calcium Disodium EDTA is used in a process called Chelation therapy for patients suffering from radiation poison and those with over exposure to heavy metals. The chemical binds to heavy metals in the blood and excretes them through the urine. Recently, doctors have started to use Chelation therapy for the treatment of other medical conditions, such as Neurological disorders, Autism, and Vascular disorders. The research is inconclusive and the topic remains controversial in the medical community. Many researchers and medical specialists insist that the risks heavily outweigh the inconclusive benefits and should only be used in cases of severe heavy metal poison. Consequently, there is a warning on the medication form of the substance, listing fatality is a possible side effect. This same chemical is used to preserve foods found in most households.

A+5.0

Reviewed by mlwarrior on April 27th, 2016

Taste: 5
Aroma: 5
Looks: 5
Heat: 5
Label: 4.4

Label:

Standard labeling. I don't care much about it.

Looks:

Thick, very bright orange, pulverized pepper.

Aroma:

Very pungent hab smell. Little bit vinegary.

Taste:

This one is all about Habanero flavor. I'm a big fan of all the Yucateco sauces, but this one is just... a perfect balance of flavors. Tastes like Caribbean peppers, very much. Scotch Bonnets are def. in this sauce. Very tropical. Not smokey. I'm a vinegar fan, and there's just enough. Not too much for those who don't like it.

Heat:

It's hot. A chili head will still feel heat, and a novice will be in a little trouble. For me it's the perfect level of continuous eating sauce. The SHU count is listed at 5k, and that's too low. It's much hotter than the green yucateco which is listed at 9k. It's right around the XXX stuff, maybe about 1 or 2k lower.

Overall:

Best of the Yucateco sauces - and I've tried all. Perfect level of heat, and strong habanero flavor. I can finish half a bottle in one sitting.