El Yucateco - Salsa Picante de Chile Habanero Red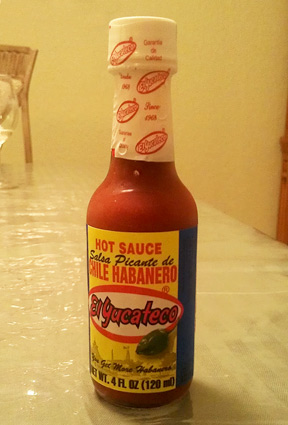 Maker:
El Yucateco
Mexico
Pepper(s):
Habanero
SHU
:

5,000
Ingredients:
Red Habanero Pepper, Water, Tomato, Salt, Spices, Acetic Acid, FD And C Red 40, Sodium Benzoate As A Preservative.
Description:
Official:
"A classic recipe, based on habanero peppers, red tomatoes and a selection of fine spices and seasonings. Its unique consistency and fiery flavor will satisfy even the strictest palate.
It is ideal to go with any kind of seafood. Savor a shrimp cocktail with a few drops of this delicious hot sauce or prepare a traditional Bloody Mary with a twist, a spicy Michelada or a Sangrita with Tequila."
User Reviews
A+4.7

Reviewed by Onfirebabies on July 8th, 2012

Taste: 4.3
Aroma: 3
Looks: 4
Heat: 4
Label: 3

Label:

Very simple labeling. Easily recognizable able and easy on the eyes.

Looks:

Bright red and flows very easily. A medium texture.

Aroma:

A sharp vinegary smell here. You can smell some heat in there as well.

Taste:

Excellent taste. A touch on the vinegary side, but by no means overwhelming.

Heat:

Even though it is a touch more forgiving than its Green brother, make no mistake this one packs a punch. It has decent power and it tends to linger.

Overall:

Truly one of my favorites. Before I discovered El Yucateco green it was my go to sauce. It wont hurt you with its heat and its flavor is excellent. An absolute must with any pork dish.