Elijah's Xtreme - Xtreme Regret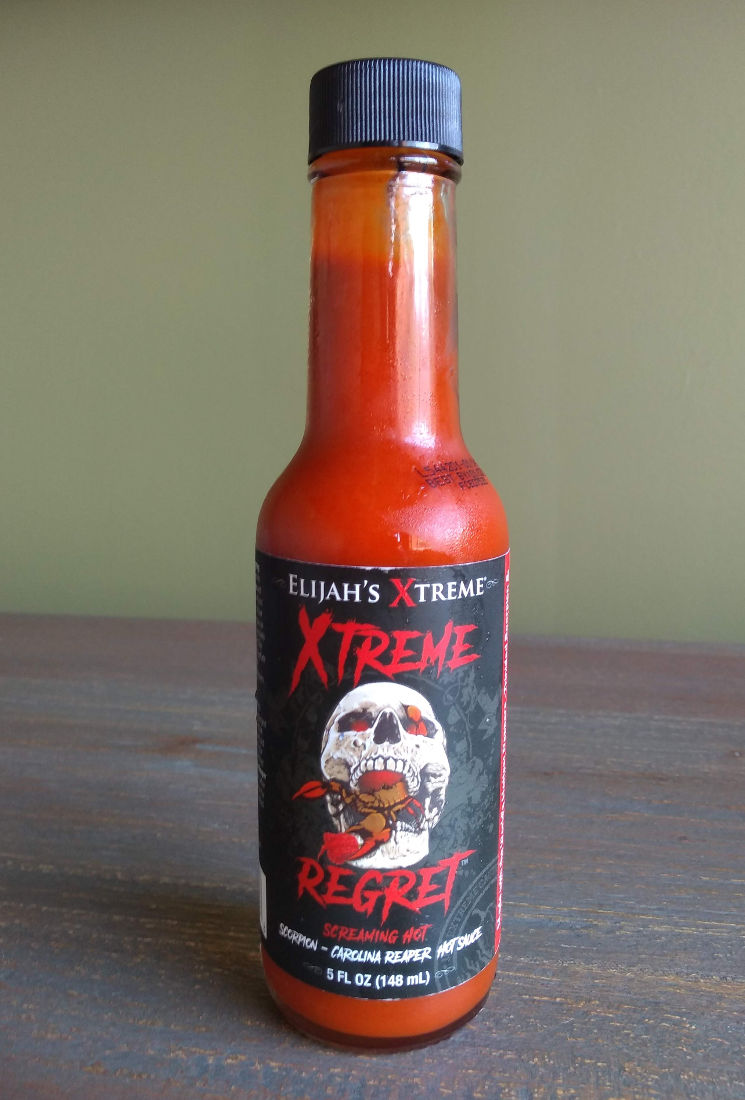 Maker:
Elijah's Xtreme Gourmet Sauces, Inc
Gastonia, NC, United States
Pepper(s):
Trinidad Scorpion, Carolina Reaper
Ingredients:
Trinidad Scorpion And Carolina Reaper Chili Peppers, Water, Carrots, Tomato Paste, Apple Cider Vinegar, Salt, Sugar, Garlic, Acetic And Citric Acids (acidity Regulators), Onion, Lemon, Passion Fruit (citric Extracts), Sugar Cane Vinegar, Xanthin Gum (thickener), Ascorbic Acid (antioxidant)
Description:
Official:
"Elijah's Xtreme® Xtreme Regret (TM) is screaming super hot! It packs the fire of the two hottest peppers in the world, the Trinidad scorpion and Carolina reaper peppers. Your tongue will burn from the sting of the scorpion, your eyes will tear up, as the sweat pours off your head. Your ears pop as the endorphins rush through you. Your throat feels the burn of the Carolina reaper going down. The pain becomes unbearable, you feel like you just ate a burning hot coal... That's when you realize "Xtreme Regret!" not for wimpy hot sauce lovers. Use with caution, or you'll regret it!

The worlds hottest peppers in one sauce. Delicious garlic flavor, packed with 50% super hot peppers! Carrots, tomato, apple cider vinegar, salt, garlic, onion, lemon, passion fruit, sugar. It's regretfully hot."